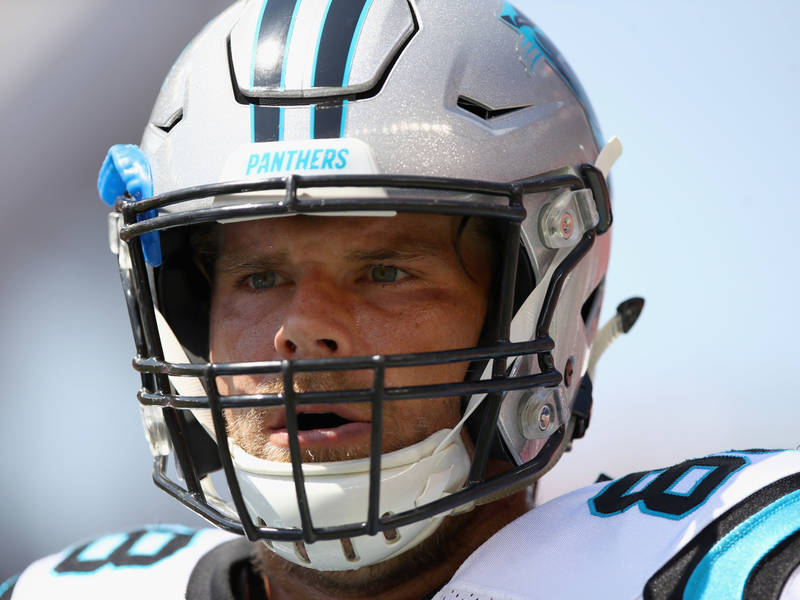 Greg Olsen is used to catching touchdown passes on television. One day, he could break down other people catching passes as an analyst.
Olsen, an All-Pro tight end with the Carolina Panthers and Wayne Hills alumnus, spoke about possibly going into broadcasting after he retires from the National Football League, the ongoing issue of players kneeling during the national anthem and what exactly constitutes a catch on ESPN's morning radio show "Golic and Wingo" recently.
Olsen signed a two-year contract extension with the Panthers earlier this year. He talked about an interview he had with ESPN earlier this year about possibly becoming a color analyst on "Monday Night Football," saying there was "a little bit of buzz" about him possibly making the move.
"It was great to be in consideration," Olsen said. "It is a hard business [broadcasting] It's easy for all ex-athletes to say 'I'm going to get a job, but there are only so many of those jobs. You'd be lying to yourself if you could pick your time to leave the game and pick the job you'll go into. There aren't many guys who hold those keys. It's a very difficult and competitive world to crack into."
Olsen said earlier this year he would like to play for the Panthers for another three to five years.
Olsen talked about the ongoing issue of players kneeling during the national anthem before games.
The league decided in May that it would fine teams if players did not stand during the national anthem while on the field. The new rule prohibits players from sitting or taking a knee if they are on the field or sideline while the anthem is played. Players may stay in the locker room during the anthem if they would like.
"Right now the hard thing is there is no right or wrong answer," Olsen said. "I think a lot of guys come to the conclusion that there's only two scenarios: I'm going to take a knee because I believe in this process and unfortunately their voices aren't being heard because they are being labeled as unpatriotic and unthankful and ungrateful and I don't think that's the objective of anybody.
"And on the other side, the people who do feel strongly about the anthem, all of a sudden they're deemed to be patriots, but they're also deemed to be insensitive and I don't think that's not what those guys want either."
Olsen is a four-time team captain, three-time Pro Bowler and played in Super Bowl 50. He is the first tight end in NFL history to have three consecutive 1,000-yard receiving seasons. He missed all but a few games last season with injuries.
"I remember as a rookie and second-year player, whether you had a chance to catch it or not, you were really opening yourself up to punishment and now you have that protection," Olsen said, referencing the new rules protecting offensive players.
Olsen volunteers much of his time to charitable organizations in the Carolina area and has founded two nonprofits: Receptions for Research: The Greg Olsen Foundation in 2009 after his mother Sue survived breast cancer. The foundation's Receiving Hope program focuses on cancer research, support and education.
In early 2013, Olsen and his wife Kara founded the HEARTest Yard Fund after a routine examination of their unborn son, T.J., showed he had a congenital defect.
Olsen was nominated the past two years for the NFL's Walter Payton Man of the Year Award. He lost to the Giants' Eli Manning and Arizona Cardinals' Larry Fitzgerald last season and the Houston Texans' J.J. Watt earlier this year.