It was the 2012 NFL off-season when the Olsen family received the surprise of a lifetime.
In January of that year, Greg and his wife Kara found out they were unexpectedly expecting. Happiness overwhelmed their hearts. A month later, they learned Kara was carrying not one, but two, bundles of joy. They were ecstatic.
Soon they received news that rocked their family to the core. One of the babies would be perfectly healthy, while the other would be born with a severe congenital heart defect.
---
Kara and Greg faced all the emotion, challenges and decisions that are only known by parents of severely sick children. They instantly decided that they were going to give the baby the best chance at life, providing him access to the best doctors, state-of-the art treatment, techniques and technology. Because so much of their life revolves around football, they called this phase of their new son's life "T.J.'s HEARTest Yard."
Together with Levine Children's Hospital at Carolinas Medical Center they made it happen. The Olsens and Levine Children's collaborated to establish The HEARTest Yard initiative, a family service program administered by Levine Children's Hospital in Charlotte, NC. The cutting-edge program provides families of babies affected by congenital heart disease with a multitude of services including in-home, private nursing care, physical therapy and speech therapy among other benefits.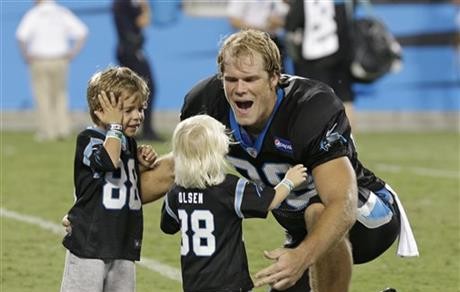 The HEARTest Yard assists families as they settle into their new lives as parents of children with congenital heart disease. The services are deducted from a predetermined medical benefit and are used at the family's discretion. The program is intended to be an extension of the world-class medical care offered at Levine Children's Hospital.
The HEARTest Yard provides these services to families at no charge, while incurring no additional expense to the hospital. The goal of the program is to improve the interstage mortality rate, increase life expectancy and long term prognosis for pediatric heart patients.
Greg and Kara have a lot to share about Hypoplastic Left Heart Syndrome and are passionate about assisting other families affected by congenital heart disease. You're invited to join them in their pursuit to give pediatric heart babies a second chance at life.