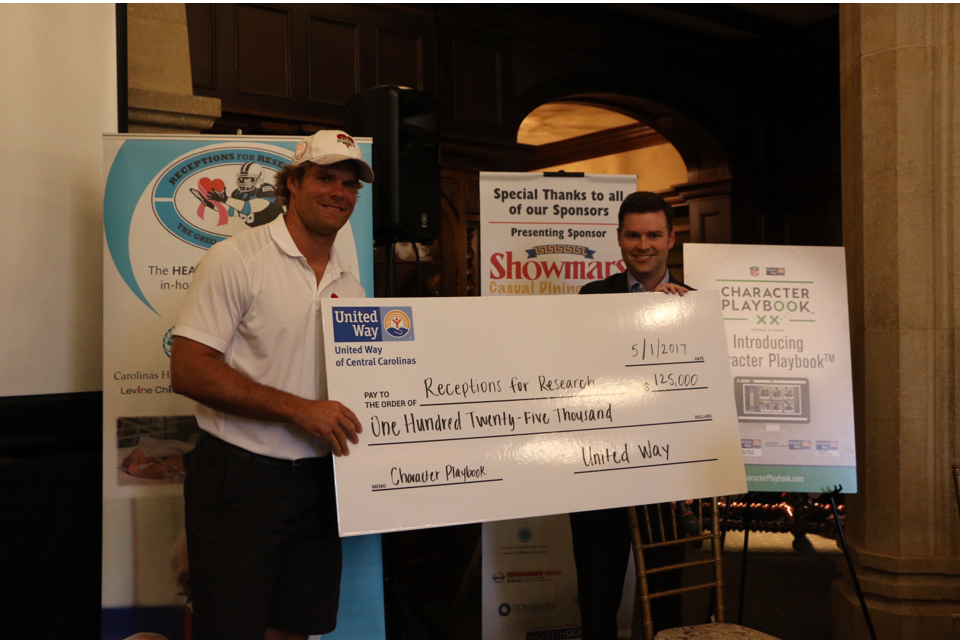 The United Way gave $125,000 to Carolina Panther Greg Olsen's foundation this week, a result of the tight end being a Walter Payton NFL Man of the Year finalist this year.
Olsen's honor brought a total $250,000 in charitable funds to Charlotte. The half that was given to Olsen on Monday at his charity golf tournament goes to Receptions for Research: The Greg Olsen Foundation. The other half of the award will be used to expand United Way's Character Playbook initiative with the Panthers.
Sean Garrett, United Way of Central Carolinas executive director, presented Olsen with Receptions for Research's portion of the award at the golf tournament. The tournament benefited the HEARTest Yard, which supports families of babies affected by congenital heart disease. Receptions for Research's other program, Receiving Hope, helps those battling cancer.
"Greg and Kara Olsen's selflessness to turn their son's heart defect and his mother's breast cancer into an opportunity to help countless other families speaks to their remarkable character," Garrett said in a statement. "Greg is an incredible ambassador for the Carolina Panthers and our community as a whole, so we're proud that United Way's national partnership with the NFL could help expand his foundation's work here locally."
The $250,000 in Walter Payton Man of the Year funds are courtesy of the NFL Foundation, Nationwide and United Way Worldwide.
The Walter Payton NFL Man of the Year program is the only NFL award that recognizes a player for his community service and his excellence on the field. Carolina Panthers linebacker Thomas Davis won the honor two years earlier.