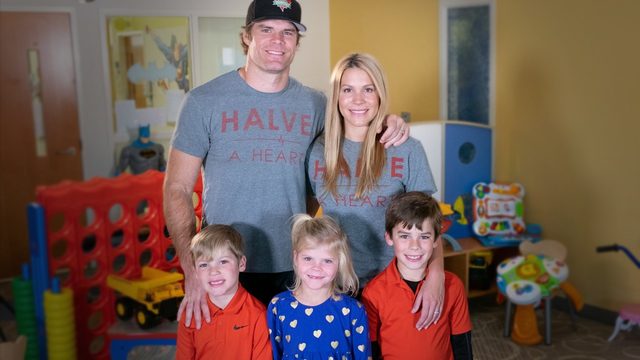 By: Kevin Campbell
Updated: Apr 19, 2019 – 8:17 PM
On May 11, hundreds will gather for the HEARTest Yard + Showmars 5K to raise money for pediatric heart disease.
With a like-minded mission to support Levine Children's Hospital, Showmars Restaurants and the HEARTest Yard joined forces to bring awareness and fundraise for children affected by congenital heart diseases and disorders.
The HEARTest Yard is Panthers player Greg Olsen's organization.
"Our son T.J. was born at Levine Children's with a very serious heart defect," Olsen said. "Through our family's journey and a lot of other families in need of health care and support, we started the HEARTest Yard."
In April 2012, a prenatal diagnosis showed that one of the twins had hypoplastic left heart syndrome, a severe congenital heart defect characterized by an underdeveloped left ventricle and aorta.
Two days after birth, T.J. underwent a long, delicate surgery.
Although T.J. still has a serious heart condition, 7-years later, T.J. keeps pace with his twin sister, Talbot, and their older brother, Tate, and T.J. appears to be the picture of health.
This is the fourth annual 5K and kids' fun run for the organization.
All the proceeds from the HEARTest Yard and Showmars 5K will benefit programs at Levine Children's Hospital.
The race and walk will begin at 8 a.m. After crossing the finish line, race participants will enjoy refreshments, music, inflatables and more.
With nationally recognized, board-certified pediatric cardiac specialists, the Congenital Heart Center at Levine Children's Hospital is the pre-eminent pediatric cardiac center in the region. Levine Children's Hospital was established in 2007 and offers more than 30 specialized treatments including transplants, cancer care and the highest level of neonatal intensive care in the region.
Together, the HEARTest Yard, Showmars and Levine Children's Hospital are investing in research and education, ensuring the best care for the children of the Carolinas.
Event Details
Date: Sat., May 11 Time: 8:00 a.m. – Noon
Location: CMC Myers Park — 1350 S. Kings Drive, Charlotte, NC 28207
Click here to register
If you have an inspiring story to share, email Kevin Campbell, WSOC-TV/WAXN-TV/Telemundo Charlotte, public affairs manager, at kevin.campbell@wsoctv.com