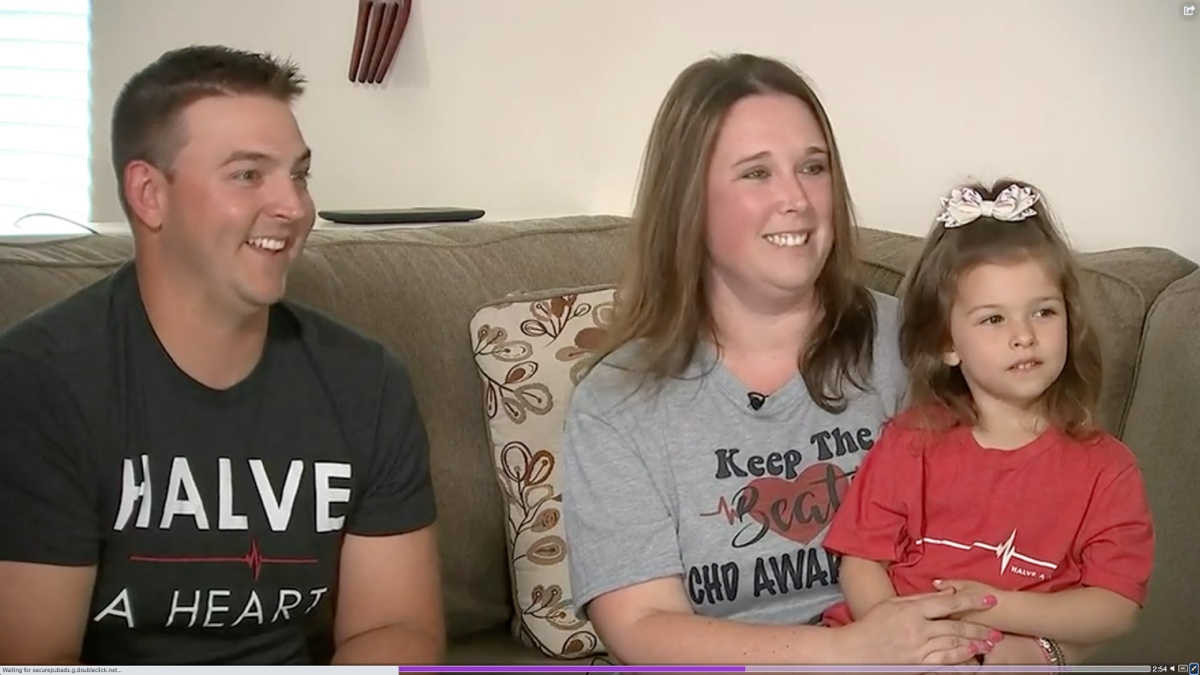 The HEARTest Yard hosted its sixth annual 5K Saturday to benefit programs at Levine Children's Hospital.
The foundation was founded by former Carolina Panther Greg Olsen and his wife, Kara Olsen, to support families of children with congenital heart diseases.
Four-year-old Jessie Spence has had open-heart surgery three times. She was diagnosed with a heart defect called aortic atresia hours after she was born. She was later diagnosed with a total of three heart defects.
Newborn Jessie Spence
"You would never know," her mother, Brooke Spence, said. "If you didn't see what we call her zipper on her chest, you would never know that Jesse has had three open-heart surgeries. She's obviously wild."
Jessie's father, Tommy Spence, told Channel 9 reporter DaShawn Brown, "The way the surgeon explained it to us, he said, 'You take Interstate 85 on a holiday weekend and shut it down to one lane. And if all those cars are her blood flow, they're trying to get through Charlotte on (I-85) on the Fourth of July weekend. It's not happening.'"
"You never dream that your child will be diagnosed with anything when you have a baby," Brooke Spence said.
Perhaps one of the Spence's greatest gifts was learning that they were not alone.
Jessie Spence
The Spences said that lesson came quickly through The HEARTest Yard.
The foundation has paid for critical and often costly services, such as private, in-home nursing care and medical equipment.
"We used every single bit of it," Brooke Spence said. "Every day. Every single day."
[ALSO READ: Greg Olsen shares touching video of son TJ telling siblings about heart transplant]
This weekend marked the in-person return of one of its biggest fundraisers, the Sixth Annual HEARTest Yard 5K.
The HEARTest Yard 5K
It's a source of help and hope for the Spences and other families.
"You forget sometimes that just a short time ago, we were going through the struggle, the unknown," Tommy Spence said. "And because of the support of everybody and all the foundations in the hospital, the Olsen family, she's running, digging for worms, flying kites and doing everything that you're a normal four-year-old kid would do. We weren't sure we'd be there, and we're there."
Dozens lace up their shoes to help children battling congenital heart diseases
Dozens of people laced up their shoes for the cause on Saturday
Panthers legend Greg Olsen spoke at the event to encourage the runners, and about the importance the event has for him and his family. Olsen's son, TJ, was born with a congenital heart defect, and Olsen has been vocal about his own journey.
"To be able to come out and connect with other families that share our journey brings a lot of hope, optimism, not only for us, but for these other families," said Olsen.
This year's 5K came with a few prizes, including a private dinner or breakfast at Showmars with Olsen.