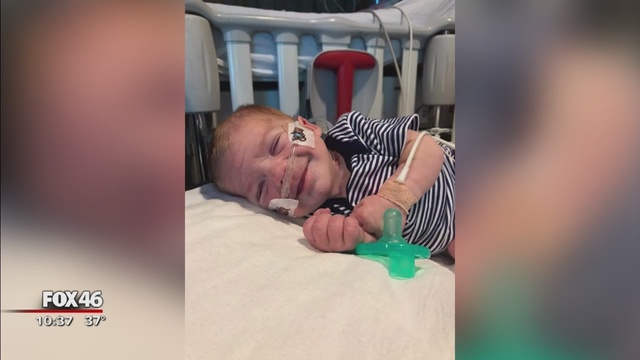 George is a regular around the clinic at Levine Children's Hospital. He's just five months old.
"George, how are you?" asks Dr. Nancy Dobrolet as she walks into the room. George was born with what Dobrolet describes as a very complicated heart. She's a pediatric cardiologist and the medical director of the cardio neuro developmental program at the hospital. She's tasked with not only caring for his heart but making sure that his developmental needs are met too.
The program Dobrolet leads started seeing patients this year and was launched by Panthers player Greg Olsen and his wife Kara after their son T.J. was born with a heart condition.
It's designed to meet behavioral and educational challenges children born with heart defects can face.
At just 13 weeks pregnant Jennifer and George Winchell found out that something was wrong with their son's heart.
"We walked out and into the lobby and we just cried," recalled George's mom.
Thanks to this specialized program, the Winchells are able to see all of George's specialists in just one place.
"He's got a lot of people to help fight through this," said George's dad, George Sr. Both of George's parents proudly wear their Team George sweatshirts. They know there are a lot of players on little George's team working to care for his heart.
"We want to support these kids well into adult hood. It's special. A lot of them didn't survive before and now they are," said Dobrolet.
George has already had a procedure and surgery. He will likely need another surgery before his first birthday.