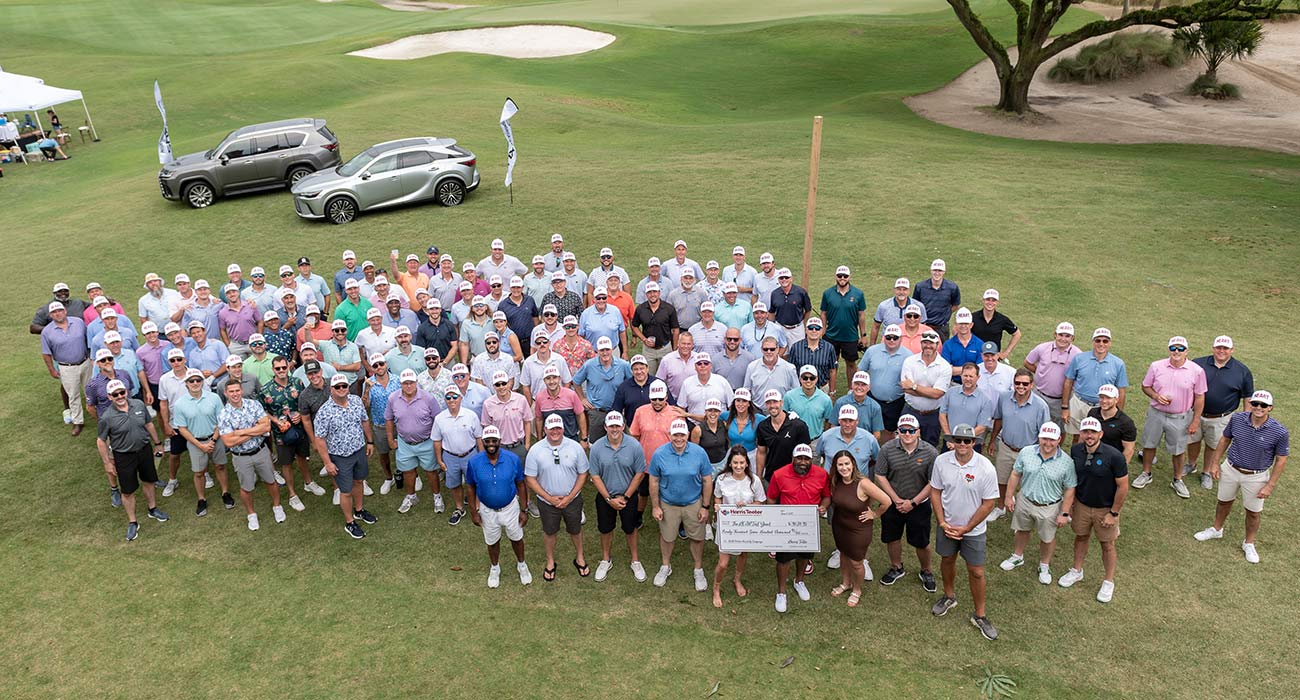 Kiawah Island Club – and its owners, South Street Partners ("South Street") – were honored to partner with their member and friend, Greg Olsen, and his family to host the Second Annual HEARTest Yard Celebrity Classic presented by Hendrick Lexus Charleston on June 11th and 12th, 2023 at the Club's Tom Fazio-designed River Course. The event raised $300,000, 100% of which will go towards funding the expansion of this incredible pediatric cardiovascular foundation's services to patients and families in the Charleston region in partnership with the Medical University of South Carolina ("MUSC"). Greg Olsen will be on hand at an event on July 28th, 2023, to present the event proceeds to MUSC Shawn Jenkins Children's  Hospital. 
Under the auspices of Atrium Health's Levine Children's Hospital in Charlotte, NC, former Carolina Panthers tight end, Greg Olsen, and his wife Kara established the HEARTest Yard program in 2012 after their son, T.J., was born with Hypoplastic Left Heart Syndrome. Founded to fill a tremendous need for families of babies born with congenital heart disease, the HEARTest Yard provides healthcare support and services to ease the transition from the hospital to home.
Through a partnership between Receptions for Research: The Greg Olsen Foundation and Atrium Health Foundation, the HEARTest Yard Fund offers a range of services, including in-home private nursing care, physical therapy, and speech therapy, at no charge to families. The program ultimately aims to help prevent children's complications from congenital heart disease and improve their long-term health. This year, the Foundation celebrated its 10th Anniversary and over $5 million dollars donated to the children's hospital to support pediatric cardiac patients.
In December 2020, the Olsen family opened The HEARTest Yard Congenital Heart Center at Levine Children's Hospital to provide comprehensive medical care to cardiac patients from birth through adulthood. In its first year of operation, more than 25,000 patients received treatment in the heart center. The services provided by The HEARTest Yard program will soon also be offered at MUSC Shawn Jenkins Children's Hospital.
"At South Street, we believe that one of life's greatest investments is time," said Will Culp, Partner, South Street Partners. "The most priceless of course is time spent with loved ones and we are humbled that Greg and his family have utilized Kiawah Island for just that over the years. After learning more about T.J.'s story and the HEARTest Yard program, we knew that this was the perfect place to expand their efforts and were thrilled to host them again this year. We hope everyone who participated will return year after year to help us support the HEARTest Yard."
The program currently serves the greater Charlotte community but as the foundation grows – and the needs of the Carolinas grow – the HEARTest Yard and South Street Partners were inspired to help heart babies and their families being treated at the world-class MUSC Shawn Jenkins Children's Hospital. MUSC and South Street have enjoyed a long-time partnership and the goal of this annual event is to expand this already valuable working relationship by bringing the HEARTest Yard to Charleston to help impact local children as well.
In 2021, South Street donated six acres of land to MUSC to meet an identified need for medical services in the Sea Islands and bring a world-class emergency medical facility for those in the community. South Street Partners was honored to make this investment — valued at approximately $6M — as they are aware of what a vital service MUSC's new clinic will provide to Kiawah Island residents and surrounding neighbors. There will also be a first of its kind in-house medical clinic operated by MUSC Health at Seafields at Kiawah Island, the first 62+ luxury life plan community at Kiawah opening in 2025 besides Freshfields Village.