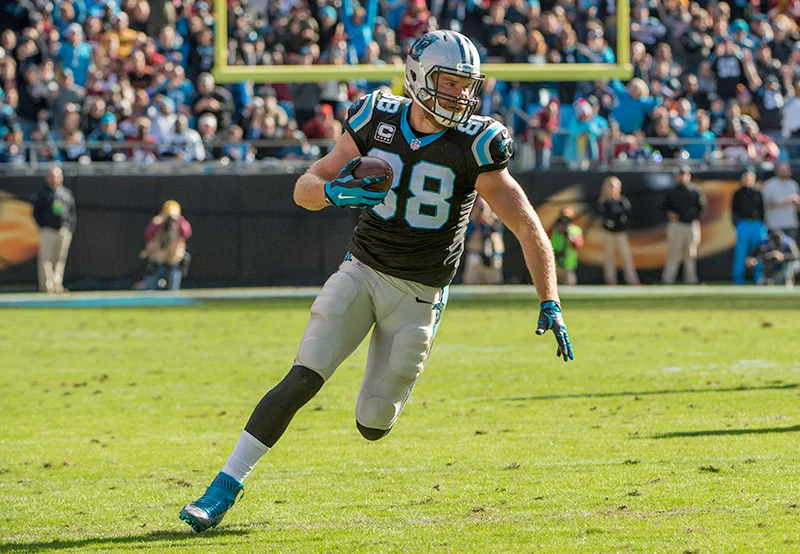 In a few weeks, Steak 48 at Apex South Park will be unusually abuzz for a Monday night. The restaurant plans to host a benefit on February 28 to raise money for The HEARTest Yard, a foundation for the families of children born with congenital heart disease. Longtime Panthers tight end Greg Olsen founded it with Levine Children's Hospital in 2013, a year after his son TJ was born with a rare congenital heart condition.
About 250 guests are expected, including Panthers general manager Scott Fitterer, former Panther stars Luke Kuechly and Thomas Davis, and NASCAR luminaries Jeff Gordon and Dale Earnhardt Jr. We caught up with Olsen this morning to check in on TJ, who received a heart transplant in June; retired life; and The HEARTest Yard. (Responses are edited for length and clarity.)
First of all, how's TJ?
TJ's doing great. They told us that the first year would be a little bit of a journey, with some ups and downs, as he settles into this new life and figures out what to expect. But since the turn of the new year, we've seen him really start to find his rhythm and rediscover his energy and spirit and confidence, and realize he doesn't need to live with reservations. We're continuing to kind of turn up the pressure on him; we want him to push his limits a little bit and get out of his comfort zone. He doesn't need to feel different. He doesn't need to feel like there are things he can't do. We tell him, "Go. Break free and just chase things that you never could do. Go be active. Go fall off your bike. Go jump off the porch. Just go." And that's a little bit of a grind, a little bit of a balance. But we can definitely see that he's coming out of his shell a little bit, and it's been fun to watch.
How's retirement treating you?
Good! My wife would argue that I'm the busiest retired guy ever. Since I've retired, I've had a handful of other projects and things that I'm interested in that have kind of caught my attention and my interest, but it's been great. I get a lot of time at home with the kids. I get a lot of time to do carpool and pick-up, coach their teams and take them to practice, and be involved with school and community activities with the kids that maybe otherwise, at certain times of the year, I couldn't be around for. This new broadcast role (as an NFL game analyst for Fox Sports) has been a good job for the calendar. It gives me a lot of free time, but it also keeps me busy enough and energized and pushing towards something. So it's been a good balance, and it leaves a lot of time that I can fill with things I want to do, not things I have to do.
The playoffs this year have been chock-full of incredible games. Have they made you want to get back on the field?
They've been so fun! But no. You know, the playoffs are always the hardest time for former and current players that aren't in them, because it's like you're watching all these other guys celebrate and achieve what they set out for, and you're like, "Man, I want to do that again!" But it's been fun to be a fan and to just sit at home and not care who wins. To just cheer for good games and excitement and not really have a vested interest in the outcome as much as appreciating what these guys are able to do. Watching that with the kids and the family, and having casual Sundays at home, has been fun.
How are things with the foundation? Anything new?
We're always trying to find ways for The HEARTest Yard to expand—not only our offerings here locally with Levine Children's Hospital and through our existing programs with them, but also to expand our footprint. We're looking at expanding into new areas of the congenital heart world, whether that be organ procurement and heart transplantation now that we've gone through it and have a little more obvious familiarity than we did years back. But also expanding our reach into other markets, expanding into other areas and regions of the Carolinas. Those are always conversations that we're having. We feel like we're never done growing. We feel like there's always something more that we can do. There's always something more that we can tackle, and that's the fun part. The chase is always the fun part.
01 07 21 Steak48 Cltmag 0017 1
Photo by Peter Taylor
How did the partnership with Steak 48 come about?
Actually, the team at Steak 48 reached out to us last summer. They approached us with the opportunity to do what we're calling an "un-gala." It's a private dinner of about 240 to 250 people. They were kind enough to offer up the entire restaurant, the food, the service, the experience, the staff—everything that you would come to expect here on a Saturday night when you're having dinner at Steak 48, except you know that your bill and your ticket fee all go towards The HEARTest Yard and the team at Levine Children's Hospital. So we're really grateful for this new partnership, and they've just been awesome to us. And the response when we opened up the tickets blew us away. We have a waiting list. We feel bad, actually, because we have close friends and people being like, "Hey, we want to come," and we're like, "We literally don't have any seats. We'll let you know if something opens up." But it's a good problem to have. We're just really thankful for the team here at Steak 48. Hopefully this is an event that we can add to the calendar annually.
> Read our 2016 "Life Lessons" with Olsen here.