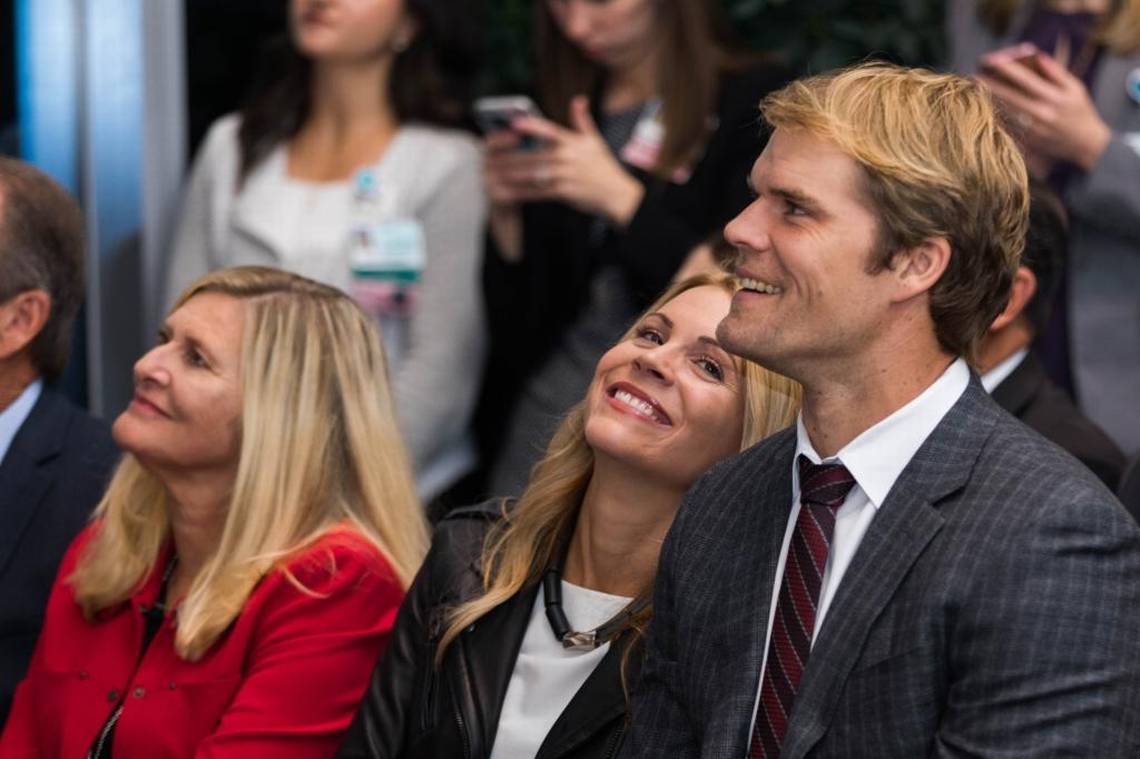 It's been about five years since Carolina Panthers tight end Greg Olsen and his wife, Kara, started a fund to assist families of children born with heart defects at Levine Children's Hospital. Since March, the Olsens have been quietly working to supersize that program.
On Tuesday, the Olsens announced the launch of a new program through Levine that will provide extended care to children born with congenital heart disease. The program is funded by the HEARTest Yard, which the Olsens founded in 2012 when their son T.J. was born with a heart defect called hypoplastic left heart syndrome.
"This cause and this hospital, and these heart families, they mean a lot to us. We know what it's like to be in their shoes. We're very fortunate that we had access to a lot of things that maybe not everybody did," Olsen said Tuesday at Levine.
T.J.'s condition required three heart surgeries, so the Olsens hired a live-in nurse – a perk that's not easily available to everyone. The care after that is ongoing, Olsen said, and includes the kind of outpatient services that the new program will fund, such as physical therapy and speech therapy.
Think of the new program as an extension of the care families get through the HEARTest Yard, which provides about $25,000 to $30,000 worth of in-home nursing care – free of charge and regardless of insurance status – to families in the critical months between their child's first and second surgeries.
Building the outpatient portion of the program will require more staff, said Rene Herlong, chief of pediatric cardiology at the Sanger Clinic, part of Carolinas HealthCare System.
That means hiring about a dozen new medical professionals, including a medical director, occupational therapists, speech therapists, educational specialists, neuropsychologists and psychometricians, or "the folks who give these comprehensive tests," Herlong said.
Herlong added that he's been hoping to get this kind of cardiac neurodevelopmental program off the ground since he got to Carolinas HealthCare System, about 10 years ago.
"It was going to take people who have experienced it themselves and who have the ability to fundraise, because it's very expensive," Herlong said.
The Olsens are kicking off the new program with an initial $750,000 donation of their own.
To date, the HEARTest Yard has raised over $2 million for Levine through grassroots efforts and events that Olsen almost always attends himself, including yoga classes at Olde Mecklenburg Brewery, 5k road races and an XBox NFL Challenge last year.
The fate of the Affordable Care Act adds a new layer of uncertainty concerning insurance for parents. But Olsen said the goal of the new program is the same as his charity's was five years ago: to ensure that kids who come to Levine can get care, no matter what the political climate.
"Dating back even five years ago … we took the insurance companies out of the equation. We took family resources out of the equation," Olsen said.
"(No matter if they are) rich or poor, whether they're being treated at Levine or not, they will be eligible. We didn't want to pick and choose people on a case-by-case basis."
According to Levine, up to 50 percent of kids born with heart defects may have neurodevelopmental deficits during their lifetimes, including behavioral issues such as depression and attention deficit hyperactivity disorder. The new program will provide services to identify and treat those conditions.
The program will operate out of the Sanger Heart & Vascular Institute in Charlotte, where the Olsens bring T.J. for regular checkups with his cardiologist. But the goal ultimately is to operate as a full brick-and-mortar clinic as the program grows, within three to five years, Olsen said.
"Our program was never about our son, it was never something he benefited from. This was always about doing what other people did for us," Olsen said.
Outside his nonprofit endeavors, the three-time Pro Bowler has kept busy this season. Olsen has been rehabbing since breaking a bone in his right foot against the Buffalo Bills Sept. 17. He will also be a guest analyst on Fox with Kevin Burkhardt and Charles Davis for the Rams-Vikings game in Minnesota on Sunday.