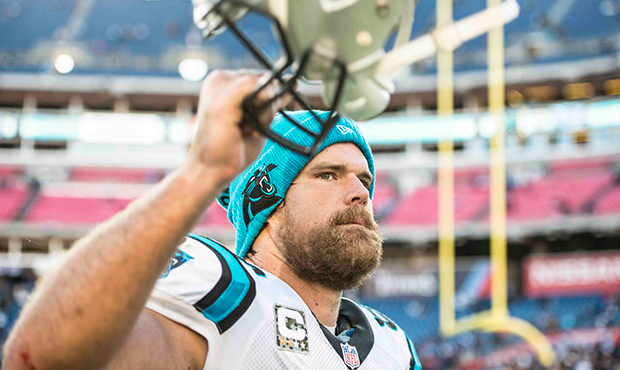 Originally posted on panthers.com. Read full story here.
Tight end Greg Olsen is the Carolina Panthers' nominee for the Walter Payton NFL Man of the Year Award, a prestigious honor with which the Panthers are quite familiar.
Linebacker Thomas Davis was named the NFL Man of the Year following the 2014 season, and cornerback Charles Tillman won the award following the 2013 season while with the Chicago Bears.
Each NFL team nominates a player for the award, and three finalists will be announced next month. The winners will be recognized during the 5th Annual NFL Honors awards show on the eve of Super Bowl 50.
Linebacker Luke Kuechly is the Panthers' nominee for the Art Rooney Sportsmanship Award, and head coach Ron Rivera is the team's nominee for the Salute to Service Award – won by Tillman in 2012 and defensive end Jared Allen in 2013 and again last season. Winners of those awards also will be revealed on the NFL Honors awards show on February 6.
The NFL Man of the Year Award recognizes community service as well as excellence on the field. A two-time team captain, Olsen is Carolina's all-time leader in receptions (324) and receiving yards (3,995) by a tight end. He earned his first Pro Bowl selection in 2014 after totaling 84 receptions and 1,008 receiving yards and is the only active NFL tight end with five or more touchdowns in every season since 2008.
"It's a tremendous honor," Olsen said. "We have a few players on our team who have won it, and they are tremendous people. It's a great honor to be chosen as that representative when there are so many good guys in this locker room. It means a lot."
Each nominee receives a $5,000 donation to the charity of their choice. There's a good chance that Olsen's choice will be Receptions for Research: The Greg Olsen Foundation.
The foundation's HEARTest Yard Fund, administered in conjunction with Levine Children's Hospital in Charlotte, provides families of babies affected by congenital heart disease with a multitude of services including in-home, private nursing care, physical therapy and speech therapy. The fund was created in honor of Olsen's son, TJ, who battled a rare heart condition called Hypoplastic Left Heart Syndrome, a congenital defect marked by an underdeveloped left ventricle and aorta.
In February 2013, Olsen traveled to Raleigh, N.C., to lobby the House of Representatives for legislation that would require mandatory heart disease screening for newborns. The bill went in to effect in July 2014.
"Greg has an incredible heart. I love the guy," Davis said. "After everything he faced with his son's surgeries, he never turned his back on his team and never walked away from serving the community. He is an outstanding friend, father and teammate and someone I truly admire."
The HEARTest Yard Fund also assists families as they settle into their new lives as parents of children with congenital heart disease, providing the care at no charge while incurring no additional expense to the hospital. The goal is to establish a full-scale nursing program that will improve the inter-stage mortality rate, increase life expectancy and long term prognosis while also helping patients and families maintain a high quality of life.
Olsen and his wife, Kara, host a variety of fundraisers throughout the year to benefit the HEARTest Yard Fund – all of which are planned and executed by Olsen. The Fund's annual charity concert draws thousands of fans in attendance, while his golf tournament raises hundreds of dollars in funding and sells out annually. The largest fundraiser for the HEARTest Yard – the Weekend with the 88's – is a partnership effort with NASCAR star Dale Earnhardt Jr. and the Dale Jr. Foundation.
"Greg's service is completely driven by love," said head coach Ron Rivera, a former teammate of Walter Payton. "Love for his family, for his community and all those around him. He is fully committed to all that he does – both on and off the field. He is a leader in the locker room, devoted husband and father, and selfless servant to the community."
In addition to his work with the HEARTest Yard Fund, the foundation's Receiving Hope program focuses on cancer research, support and education programming. The program distributes thousands of dollars annually with funding generated by events chaired, planned, and executed entirely by Olsen. The program's most notable and largest fundraiser, Kicks for a Cure, has raised more than $750,000 in its seven-year history. The event is held annually in Chicago and has supported a wide variety of projects, including a complete room renovation at the nation's largest Ronald McDonald House, also located in Chicago.
In 2014, Olsen founded and co-chaired the Levine Children's Hospital's inaugural fundraiser, which raised more than $500,000 to support hospital programming. Shocked that the hospital did not have a signature fundraiser, he pitched the idea of the gala to the hospital, hand-selected the committee members and was hands-on throughout the entire planning process – even choosing table linens. Committee meetings were scheduled for Tuesdays so Olsen could attend.
"Greg Olsen is a guy that puts his heart and soul in his foundation," Tillman said. "He's been like that since we were teammates in Chicago. Coming to Carolina in April as a free agent, Greg was one of the first guys to welcome me to the team. After talking to him upon my arrival, I could tell he hasn't changed a bit. He's a pillar in the community and the NFL needs more stand up guys like Greg."
The winner of the Walter Payton NFL Man of the Year will receive a $50,000 donation. To further celebrate the 32 nominees, Nationwide, the presenting sponsor of the award, will execute an inaugural Charity Challenge. Team nominees will each have a unique Twitter hashtag (Olsen's is #OLSENWPMOYCHALLENGE), and the player hashtag that generates the most mentions will win a $20,000 donation to a charity of their choice from Nationwide.