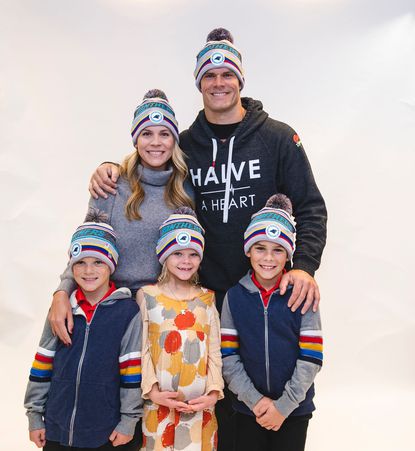 New Jersey's own Greg Olsen has made three Pro Bowls, played in a Super Bowl, and caught 741 passes and 60 touchdowns in his 14-year NFL career. But days like Monday will define his legacy more than anything the current Seattle Seahawks tight end has done on the field.
Olsen, 35, and his wife, Kara, on Monday will cap an eight-year journey of giving by helping to unveil The HEARTest Yard Congenital Heart Center at Levine Children's Hospital in Charlotte, N.C., in conjunction with Atrium Health — a facility and concept they helped fund and build.
The Olsen's son T.J., who turned eight years old in October, was born with a congenital heart disease while Olsen was playing for the Carolina Panthers. And the Olsens, who still call Charlotte home, have used their knowledge and resources since to help families with the costs, inconveniences and challenges of such a trying experience.
Greg Olsen and wife Kara have channeled their resources and experience with son T.J. (l.), now 8, into The HEARTest Yard initiative that has culminated in the unveiling of The HEARTest Congenital Heart Center at Levine Children's Hospital in Charlotte, N.C., in conjunction with Atrium Health. (Photo: Greg Olsen, Nov. 2019) (Melissa Melvin-Rodriguez)
They started The HEARTest Yard program in 2013 to raise money and provide in-home services for families who were bringing children home for the first time following heart surgery after birth.
And now, after years of work and a massive $2.5 million gift from the Olsens in 2019, the hospital is opening a 25,000-foot facility that will house the entire pediatric cardiac program in one state-of-the-art space.
"The way we look at it is our role was to try to fill some gaps that along the way we as a family encountered," Olsen, a former Wayne Hills (N.J.) standout, told the Daily News on the phone Friday. "That was the whole reason for starting The HEARTest Yard in the first place under the guise of providing in-home, very privatized health care. For a lot of families who otherwise wouldn't be able to afford it on their own dollar, we were able to kind of fill that need, because we saw what a value that was providing it for ourselves years earlier."
A first look at The HEARTest Congenital Heart Center at Levine Children's Hospital in Charlotte, N.C., in conjunction with Atrium Health. Greg Olsen and his wife Kara donated $2.5 million to help turn the idea into a reality. (Photos: Atrium Health, Dec. 2020)
"Then we saw what it's like when we take our son for checkups and he goes to see the different clinics for various checkups, and even though they all could be on the same campus, they all could be scattered in a variety of medical buildings, different floors, different buildings on the medical campus," Olsen continued. "And examples like that are why we've picked specific projects to spearhead, because it'd be nice if people could have a little bit of an easier experience navigating the healthcare system and the world of congenital heart disease than it was when we were coming through. Hopefully we can leave those families a better path behind us."
As part of the HEARTest Yard program over the years, the Olsens also have funded nursing staff and donated $750,000 several years ago to help top doctors build out a neurodevelopmental clinic. They brought a specialist in from Cleveland to build out a team and program to deliver more neurological cognitive developmental services to cardiac babies and children as they grew and entered society.
And as the neurodevelopmental clinic grew, the Olsens needed a space for it. In Levine Children's Hospital they found a partner to combine financial resources and realize what Olsen is most proud of: the ability to house all of the pediatric services in one place to make it easier for patients and their families.
The Olsens call Charlotte, N.C., home and have been dedicated to the pediatric cardiac care space for eight years and counting. (Photo: Greg Olsen, Nov. 2019) (Melissa Melvin-Rodriguez)
The Olsens' $2.5 million contribution last year made up the difference of what the hospital needed to turn the blueprints into reality.
"It will house our neurodevelopment clinic and also all the other subspecialties that make up the pediatric cardiac program at Levine Children's," Olsen said. "All those sub clinics will be housed in one place for the first time ever. And we're just really excited to bring this to the community and the market, because it will really be a very unique space that our region of the country really doesn't have."
Monday's unveiling will be a virtual ribbon-cutting that can be viewed on Levine Children's Hospital's Facebook page.
As for football, Olsen told the News that his season is not over despite the fascia tear in his left foot that landed him on injured reserve in Week 11.
"Right now I'm rehabbing to come back and finish this year," Olsen said. "I'm doing really well. I'm hoping to be back here hopefully in the next few weeks, before the end of the regular season and hopefully onward for a while in the playoffs. So my season is by no means over. I'm really making good strides. I've made a lot of good progress in the first two weeks. So I'm hoping (to have) another couple weeks of progress like I've had (already), and hopefully (I'll) be able to finish this thing up."