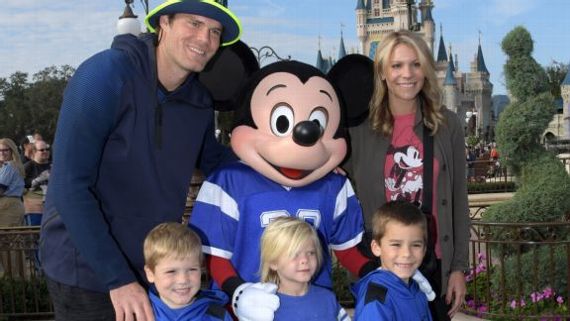 CHARLOTTE, N.C. — Tears began to flow as Aimee Cantadore recalled the fear felt when nurses explained what she and her husband had to do at home for their newborn daughter to survive.
They continued when she remembered being told Macie Joy qualified for 280 hours of in-home nurse care through the The HEARTest Yard Foundation, established by Carolina Panthers tight end Greg Olsen through Levine Children's Hospital in Charlotte.
"He's really kept our daughter alive by having help here," Cantadore said.
A year ago Cantadore hadn't heard of Olsen, who was preparing for Super Bowl 50 when Macie was born with half a heart. She wasn't aware of his foundation, what congenital heart defect was or that Olsen had been through the same thing with his son T.J.
She still hasn't met the three-time Pro Bowl selection, one of three finalists for the Walter Payton NFL Man of the Year Award that will be announced Saturday night at NFL Honors in Houston.
But she knows without Olsen, the past year would have been unmanageable.
"It makes me cry just thinking about it," Cantadore said. "Having a nurse there was lifesaving. There is no way I could have handled caring for her and also be able to care for my other two [children] and continue daily things such as groceries and laundry.
"It was just a huge blessing."
Olsen knows
In 2012, Olsen's wife Kara gave birth to twins, son T.J. and daughter Talbot. T.J. was born with half a heart, a congenital heart defect known as hypoplastic left heart syndrome. They experienced the same fear Cantatore did as doctors and nurses explained how T.J. would need four surgeries — three open heart procedures and the installation of a pacemaker.
They felt their life was spinning out of control when told about the in-home care needed to keep T.J. alive after he spent about 40 days in intensive care.
Olsen's biggest initial fear was he would mix the formula incorrectly and cause T.J. to die.
Within 24 hours of going home with T.J., the couple realized they needed in-home help. That was the genesis for The HEARTest Yard, a spinoff of Olsen's foundation that was established in 2009 to raise money for breast cancer research.
"We kind of looked at each other and said, 'This is way more than we anticipated. This is a full-time job,' " said Olsen, who is in Houston where the Atlanta Falcons and New England Patriots are preparing for Sunday's Super Bowl LI.
"These were needs that not only were critical to his day-to-day, but critical to his development, preparing to go back into surgery."
Fortunately for the Olsens, they could afford the care. Since 2013, their foundation has helped 47 families that could not.
Luann and Brian Register, whose son Brantley was born with HLHS in 2014, said they potentially could have lost their home had it not been for Olsen's program.
Aimee's husband, Frank, knows for sure he couldn't have afforded the additional $20,000 to $25,000 in-home nursing cost on top of the other hospital bills.
"The first time [Olsen] met with a lot of us in the hospital as a group, he wanted to give these kids and these families the world, anything that he possibly could. We were actually the ones that said, 'Slow down. We can't do all that.'"
Kari Crawford-Plant, a pediatric nurse practitioner at Levine Children's Hospital
He didn't stop short of saying it was lifesaving for his daughter.
"I think that's why they probably started the foundation," Frank said. "They found out how difficult it is. Having that for my wife and me, it was phenomenal."
Tears to advocate
Kari Crawford-Plant, a pediatric nurse practitioner at Levine Children's Hospital, first met the Olsens in 2012 right after T.J.'s diagnosis.
"It wasn't the best meeting because they were both sobbing," she said. "I just introduced myself, told them they would get through it and that we would [tour the facility] another day when they collected themselves.
"He shook my hand and shut the door, and the next time I saw them was when they had twins."
Crawford-Plant has watched Olsen grow from a father in disarray to a nationwide advocate for families affected by congenital heart defect.
"The one thing I have learned about Greg is he's a big visionary," said Crawford-Plant, who has become the go-to person at Levine for HEARTest Yard families. "The first time he met with a lot of us in the hospital as a group, he wanted to give these kids and these families the world, anything that he possibly could.
"We were actually the ones that said, 'Slow down. We can't do all that.' "
Slowing down isn't Olsen's style. On the field this season, he became the first tight end in NFL history to have 1,000 yards receiving for three consecutive years.
Off the field, between his HEARTest Yard campaign and Receptions for Research campaign — founded for breast cancer research because Olsen's mother was diagnosed with that while he was in high school — the foundation has raised well over a $1.25 million.
The winner of the Walter Payton Award, which Carolina linebacker Thomas Davis won in 2014, will receive a $500,000 donation to the charity of his choice and another $500,000 in his name to be donated to the NFL's Character Playbook.
Olsen's foundation received a $25,000 donation from Nationwide recently when he won a social media competition among the 32 Walter Payton Award nominees.
Among those who pushed him over the top on Twitter were actors Dwayne "The Rock" Johnson and William Shatner, as well as NASCAR star Dale Earnhardt Jr.
"He has a lot of popular celebrity connections that always help," Crawford-Plant said. "
[Actor] Vince Vaughn came to a hospital fundraiser. All of those things help this on a national level, not just a local level, which is important for kids with congenital heart disease."
Game-changer
Olsen recently ran into a child at Levine whom he didn't know had the same heart defect as T.J.
"They were just playing in the hallway," Crawford-Plant said. "He turned and asked his grandmother, 'What does he have?' She told him. I could see that look on his face when he realized it was the same thing.
"It's a game changer, and we witnessed that firsthand. It's one of those things that is hard to imagine until you find yourself in that situation."
Greg Olsen
"T.J. was standing there beside the child and they hugged and compared scars. I'm sure they have a lifetime bond there. It was sweet to watch."
T.J. is 4 1/2 years old now and doing well, but even with an in-home nurse there were tough days. There were times when Olsen would leave in the middle of practice and rush home or to the hospital because of an emergency situation.
Those are things he's able to share with other families.
"The biggest message we try telling them is the day to day, you're going to have some bad days and you're going to have some good days, and neither one of them is a sign of how it's going to be forever," Olsen said.
"Just take it as it comes, don't get too far ahead of yourself and try to map out the next week, month, year, because it's hard enough in the beginning to map out what the next 12 hours are going to be like."
That's why Olsen is so passionate about the HEARTest Yard. He only has to walk down the hall to T.J.'s room to understand what others are experiencing.
"It's a game-changer, and we witnessed that firsthand," he said. "It's one of those things that is hard to imagine until you find yourself in that situation."
Starstruck to dad
Frank Cantadore was coaching a high school basketball game at Concord First Assembly Church last year when he received one of those calls Olsen got at practice.
"I knew right away it was Macie," he said. "Her blood saturation level, it's supposed to be in the 80s and it was at zero. It's a very scary time going through this, knowing your kid's chest is wide open and you're just helpless."
Having a nurse there to help, Cantadore said, indeed was a lifesaver. Having an advocate like Olsen has been comforting.
"I don't know Greg, but I've seen pictures of his kid running around and happy, so that was really good to hear when they told us Macie had the same thing," he said.
Many families are starstruck when they first meet the 6-foot-5, 255-pound Olsen.
"He's a tall man," Crawford-Plant said. "I think they all take a step back. They get over that pretty quickly, because then they realize he's just a dad.
"Kara and him were just two parents that were fighting the same battle to make sure not only that their child survived but thrived through their childhood."
Saves lives
Macie Joy celebrated her first birthday two Saturdays ago.
That's the first thing the Cantadores point to when asked why Olsen should win the man of the year award over finalists Eli Manning of the New York Giants and Arizona Cardinals wide receiver Larry Fitzgerald.
That's why Aimee teared up when she began recalling all that Olsen's foundation has done.
Crawford-Plant understands.
"What he's doing does save lives," she said.
Olsen doesn't do this to win awards. He does it because it's personal, from what he experienced with T.J. as an adult to his mother as a teenager.
He does it because he doesn't want others to feel the fear he and Kara once did, because he wants to see other children born with a heart defect have a healthy and happy life.
"Our rule was we tried to have more good days than bad, and life was going to be normalized even if it was going to be a little at a time," Olsen said. "That's why we feel so passionate about playing that forward and trying to have the families that come behind us have a better experience than we did."