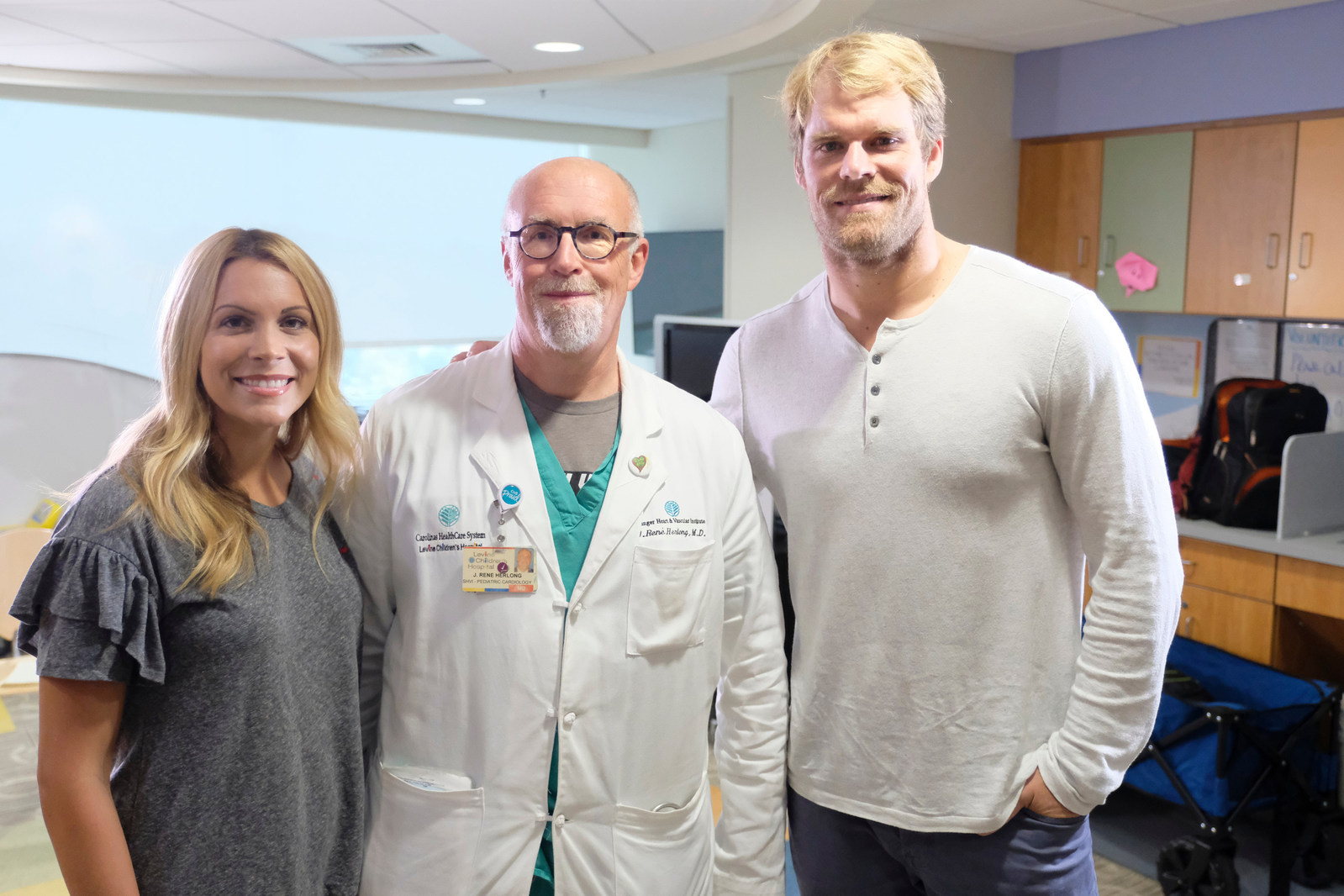 CHARLOTTE, NC (FOX 46 WJZY) – The Greg Olsen Foundation, in partnership with Carolinas HealthCare System's Levine Children's Hospital, announced on Tuesday The HEARTest Yard Fund has pledged to support a cardiac neurodevelopmental program, which will be the most comprehensive program of its kind in the Southeast.
The HEARTest Yard, which was founded by Carolinas Panthers All-Pro tight end Greg Olsen and his wife Kara, provides families of infants treated for severe or complex congenital heart disease at Levine Children's Hospital with services including in-home, private nursing care, physical therapy and speech therapy at no charge.
As their own son who was born with a congenital heart defect has grown, they realized a need for additional programs and services to ensure children can reach their fullest potential.
"At The HEARTest Yard, we continually think bigger. The status quo is never enough because we have lives at stake," Greg Olsen said. "While a few years ago we kicked off the program helping infants, our foundation is growing just like our heart babies. We're dedicated to helping them over the course of their life. We see tremendous value in the expansion of The HEARTest Yard. That's why we've already gifted $750,000 to kick start the funding for the cardiac neurodevelopmental program and we look forward to raising the millions more needed to establish and build this program into one of the nation's best."
Beyond the physical challenges, up to 50 percent of pediatric heart surgery patients may have neurodevelopmental deficits during their lifetime, which can impact language, fine motor skills, or vision, according to members at Levine Children's Hospital.
Official said many of these issues can be hard to detect until later in life and without access to the right tests and programs, so that even teachers and pediatricians may fail to notice the subtle differences. This program will provide key services to bridge that gap and ensure patients and their families have access to the right care. Services will include:
Early diagnosis. By conducting the right tests at the right time, experts will learn the extent of a child's problems early on so they can intervene at the point of greatest impact and set appropriate expectations for parents.
Comprehensive evaluation. While every child is different, they will all benefit from the collective expertise of a team of pediatric cardiologists, neuropsychologists, physical and occupational therapists, speech therapists, dieticians, social workers and education specialists.
Coordinated care. By arranging tests and interventions through a single clinic, the care team will receive a complete picture of a child's well-being while also making it easier on parents' lives.
Leading research. One of the clinic's goals is to learn more about this growing patient population and conduct research to develop the most effective, evidence-based treatments.