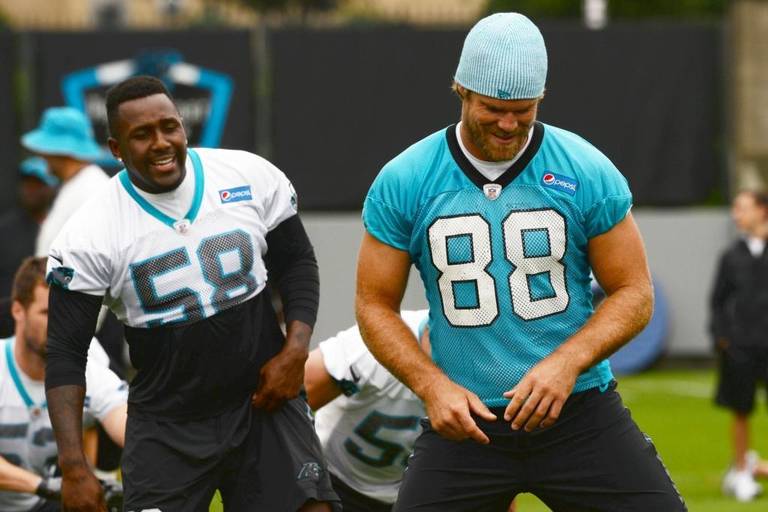 Tight end Greg Olsen will sign a one-day contract with the Carolina Panthers on March 11 before officially retiring.
Olsen wrapped up his a 14-year NFL career, announcing the news of his retirement on the FOX pregame show prior to the NFC Championship game in January. His career ranks among the top tight ends in NFL history.
He will join former teammate Thomas Davis in signing a one-day contract with the organization, doing so on the exact same day with both taking part in a virtual press conference. The pair overlapped as teammates from 2011-18.
Olsen, 35, spent nine years with the Panthers after being traded by Chicago in 2011 for a third-round pick. With the Panthers, he became one of Cam Newton's most reliable targets. His final season was spent with the Seattle Seahawks, but he dealt with injuries during the second half of the year.
He will move on to his career as a FOX sports broadcaster, a deal he signed last year. While he was still playing, he did some analyst work for the network.
A three-time Pro Bowler (2014-16), Olsen is also the Panthers' all-time leading tight end in receiving yards (6,463), receptions (524) and 100-yard receiving games (11). In terms of Carolina receiving records, he ranks third all-time in yards and receptions behind Steve Smith and Muhsin Muhammad, and fourth in receiving touchdowns (39).
Despite a successful career in Carolina, Olsen did not leave the Panthers on the best of terms in 2020. With one year remaining on his deal and a desire to stay despite the beginning of a rebuild, Olsen was released about a month after the season ended. He later spoke out about the parting and how his "pride was hurt."
"I never asked the team to let me go," Olsen told The Observer last February. "I never said I didn't want to be part of whatever future direction they are going. It just wasn't meant to be. It wasn't in their plans."
The Seahawks then signed him to a one-year, $7 million deal, despite interest from other teams like the Buffalo Bills. In his final season, he played in 11 regular-season games, catching 24 passes for 239 yards and one touchdown.
He was twice named the Panthers' finalist for the Walter Payton Man of the Year award. Olsen and his wife, Kara, established The HEARTest Yard fund as part of the Greg Olsen Foundation after one of his children, T.J., was born with hypoplastic left heart syndrome, a congenital heart disease.
The family has done significant charity work with the Levine's Children Hospital, including donating $2.5 million last year to help build a pediatric cardiovascular and congenital heart outpatient clinic. That clinic — The HEARTest Yard Congenital Heart Center at Levine Children's — opened this year