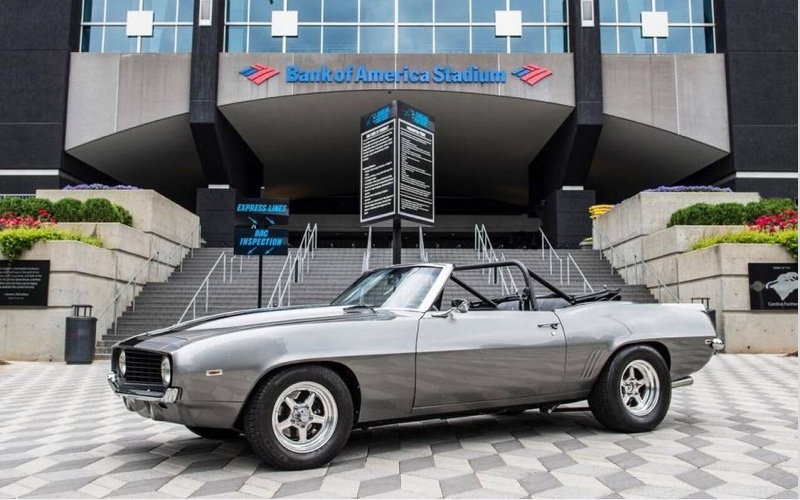 Greg Olsen is auctioning off a 1969 Chevrolet Camaro convertible later this month to benefit his charity, the HEARTest Yard, which supports programs at the Levine Children's Hospital.
The antique car was donated anonymously to the Carolina Panthers tight end recently for the purpose of being auctioned off, said Olsen's friend Jason Lozon, who is helping coordinate logistics for the auction.
The vehicle was recently appraised for $139,000, Lozon added.
The event's taking place at auction company Barrett-Jackson's inaugural Northeast Auction June 23 at the Mohegan Sun, a casino in Connecticut. Viewers can watch it on Velocity TV at 4:30 p.m., Lozon said.
"I wanted this Camaro to improve the lives of families and immediately knew that auctioning it through Barrett-Jackson would be the best way to maximize the exposure for it," Olsen said in a statement.
The Camaro's body paint has been professionally restored, as have its engine, transmission and undercarriage components, the company said.
The Olsens set up the HEARTest Yard fund in 2012 when their son T.J. was born with a heart defect called hypoplastic left heart syndrome. The initiative supports families with children born with HLHS who are treated at Levine like T.J. was. It provides about $25,000 to $30,000 in in-home nursing care and speech therapy, among other services.
The HEARTest Yard Fund operates under the umbrella of Receptions for Research, which Olsen established in 2009. Its fundraisers have included golf tournaments, a yoga night at Old Mecklenburg Brewery and most recently, its inaugural 5K run last month.