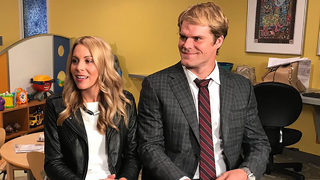 CHARLOTTE, N.C. – Carolina Panthers tight end Greg Olsen and his wife, Kara Olsen, teamed up with Levine Children's Hospital and announced on Tuesday the first cardiac neurodevelopment program in the Southeast to help children living with heart defects.
"We knew there was something bigger we could do," Greg Olsen said.
The Olsens created their Heartest Yard Fund after their son was born with a congenital heart defect.
"The reality is, for a lot of these heart kids, their needs don't end with their hearts," he said.
The Heartest Yard Fund is now donating $750,000 to help Levine Children's Hospital create the region's first cardiac neurodevelopmental program.
"To have one comprehensive program that will identify all the needs — cognitive delays, speech delays, behavioral, social — all of these things important not only in the cardiac world but important in just raising your children," Olsen said.
Sherry James is excited that it will soon be much easier for parents like her to seek help.
"I look forward to hearing the first few families say, 'I knew something was wrong and these guys got behind us and supported us and now my kid is getting the help he needs to be successful,'" James said.
They plan to raise millions more to build the program.