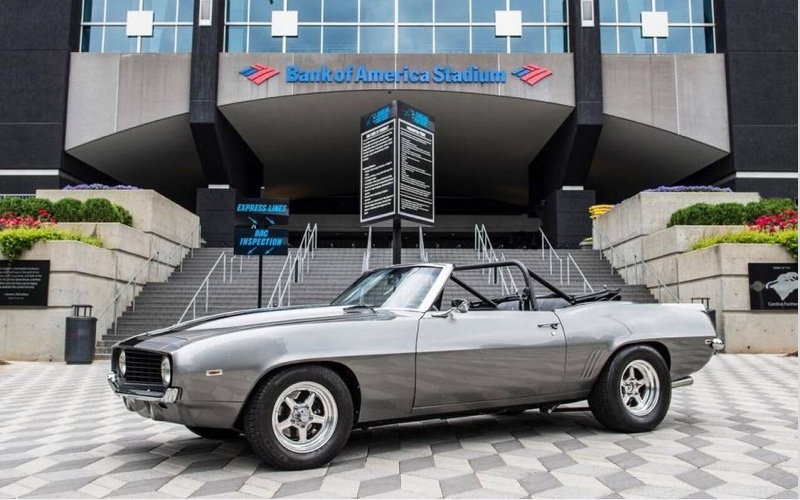 SCOTTSDALE, Ariz.–(BUSINESS WIRE)–Barrett-Jackson, The World's Greatest Collector Car Auctions®, will auction a 1969 Chevrolet Camaro Convertible owned by All-Pro tight end Greg Olsen for charity at its inaugural Northeast Auction, June 23-25, 2016, at Mohegan Sun. The car will cross the auction block on June 23 with 100 percent of the hammer price going to Receptions for Research: The Greg Olsen Foundation benefitting The HEARTest Yard.
"Selling a charity car is one of the most fulfilling things we do at our auctions," said Craig Jackson, chairman and CEO of Barrett-Jackson. "It is something that has been an important part of our company for a very long time as we've helped raise nearly $90 million to date. Having an NFL star like Greg attached to this car makes it very special and I am happy he chose Barrett-Jackson to help with this cause at our inaugural Northeast Auction."
This 1969 Chevrolet Camaro Convertible (preview) features a professionally built engine, transmission and undercarriage using after-market components throughout. A built Dart V8, 427ci small-block engine and a Tremac 5-speed manual transmission power the Camaro. The body, paint and trim have been professionally restored, and the interior features custom upholstery along with dashboard and aftermarket instruments. Other features include aftermarket tires and billet wheels, a cowl-induction fresh-air hood, rear spoiler, body frame connectors and roll bar.
"I wanted this Camaro to improve the lives of families and immediately knew that auctioning it through Barrett-Jackson would be the best way to maximize the exposure for it," said Olsen. "The auction company is the foremost leader in the industry, and its commitment and willingness to supporting charitable causes stands out. I'm looking forward to seeing this car cross the block for charity and, having grown up in the Northeast, it's exciting for me to be a part of Barrett-Jackson's first event at Mohegan Sun."
The inaugural Northeast Auction at Mohegan Sun in Connecticut, June 23-25, will be broadcast live on Velocity and Discovery Channel. For more information on becoming a bidder, follow the link to http://www.Barrett-Jackson.com/Bidder/Home.
About The Barrett-Jackson Auction Company
Established in 1971 and headquartered in Scottsdale, Arizona, Barrett-Jackson, The World's Greatest Collector Car Auctions®, is the leader in collector car auctions and automotive lifestyle events. The company produces auctions in Scottsdale, Arizona; Palm Beach, Florida; at Mohegan Sun in Connecticut, and Las Vegas, Nevada. With broadcast partners, Velocity and Discovery Channel, Barrett-Jackson will feature live television coverage in 2016, including broadcasts in over 100 countries internationally. Barrett-Jackson also endorses a one-of-a-kind collector car insurance for collector vehicles and other valued belongings. For more information about Barrett-Jackson, visit http://www.barrett-jackson.com, or call 480-421-6694.
About Receptions for Research: The Greg Olsen Foundation
Receptions for Research: The Greg Olsen Foundation was established in 2009 to provide hospitals, doctors and scholars the resources necessary to enhance the lives of those affected by various forms of cancer and cardiovascular diseases or disorders. Receptions for Research partners with local and national organizations in the pursuit to discover a cure for these debilitating diseases and it's their goal to make sure everyone has a second chance in life.
About The HEARTest Yard
Together with Levine Children's Hospital at Carolinas Medical Center they made it happen. The HEARTest Yard initiative is a family service program administered in conjunction with Levine Children's Hospital located in Charlotte, NC. This cutting-edge program will provide families of babies affected by congenital heart disease with a multitude of services including in-home, private nursing care, physical therapy and speech therapy among other benefits.
Contacts
Corporate Communications
Barrett-Jackson
Rodney Scearce, 480-306-8253
Senior Media Relations Supervisor
RScearce@Barrett-Jackson.com