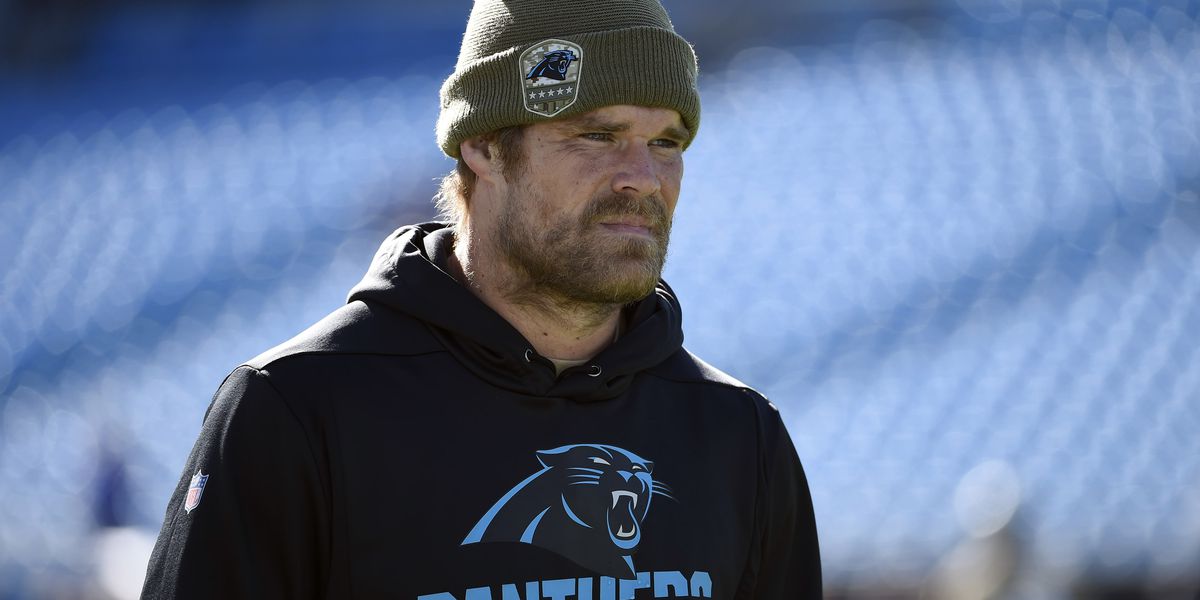 Greg Olsen was not just a dynamic, big-play football player who spent nine seasons with the Carolina Panthers.
He made Charlotte his home, raised his children here, and submerged himself with the community.
Olsen, a three-time Pro Bowl performer for the Panthers, announced his retirement Sunday following his 14th season in the National Football League.
His legacy in Charlotte will be marked just as much for his generous contributions off the gridiron, as it was for capturing nearly every single record by a tight end in the franchise's history.
Olsen brought his Greg Olsen Foundation, which provides resources to families affected by cancer and cardiovascular diseases, to the community.
[ Longtime Carolina Panther Greg Olsen announces retirement from NFL ]
He has been instrumental in starting the HEARTest Yard program with the Atrium Health's Levine Children's Hospital, which raises money and provides programmatic support for children with congenital heart diseases.
Olsen, and his wife Kara, had their son T.J. in 2012, who was born at Levine Children's Hospital with a very complex, critical congenital heart defect called hypoplastic left heart syndrome.
T.J. underwent three open-heart surgeries and a few other heart procedures over the next two and a half years.
The Olsen's son is healthy, thanks to the staff at Levine Children's Hospital, which is where he started the HEARTest Yard program, while playing for the Panthers.
"Greg is just such a great advocate for children, for the community, for parents of children with heart defects," said Kari Crawford, a nurse practitioner at Levine Children's Hospital. "He gets to help in so many facets of our community. So every year, it seems like it is able to grow for all different parts of the not just the cardiac program."
Even though Olsen spent his final season with the Seattle Seahawks, and plans to work in broadcasting for Fox, Crawford says Olsen continues to support and give back to Levine Children's Hospital.
"So ultimately, he helps a number of organizations here in the community, in addition to his HEARTest Yard program," Crawford said. "There is no other center like this in the state of North Carolina. and we are blessed to have it and are excited to grow it and offer these services because of their support."
Even in post-retirement, Crawford thinks the Olsens will continue to be around to help grow the hospital to endless opportunities, especially for children with a congenital heart defect.
"Well, if you ever met Greg, he keeps his eye on the prize and he dreams big," Crawford said. "So no telling when it comes to him and Kara and all the fantastic ideas they have. We will do whatever we can to support it."
Olsen was a two-time finalist for the NFL Walter Payton Man of the Year Award.
[ Former Panther Greg Olsen advocates for schools opening in social media post to City of Charlotte, state leaders ]
"(I'm) proud of what I was able to accomplish in this league, proud of the relationships and everything that the game has given me. But sometimes, when it's time, it's time and my time in the NFL now has come to an end. I'm excited for the next chapter," Olsen said on Fox Sunday afternoon. "I've got it all out of my system."
He played nine seasons with the Panthers, becoming the franchise's all-time leader in receiving yards, receptions and 100-yard games by a tight end.
[ Greg Olsen to join Fox as NFL analyst after retirement ]
Olsen made the Pro Bowl three times with the Panthers and was selected to the AP All-Pro Second Team twice.
Olsen, who was drafted by the Chicago Bears in 2007, was traded to Carolina in 2011. He played his 14th and final pro season this year with the Seattle Seahawks.
[ Greg Olsen on Charlotte being "home," his charity and why he's joining the Seahawks ]
From 2014-16, he piled up three-straight 1,000-yard receiving seasons.
Olsen tallied 6,463 receiving yards, 524 receptions 10 100-yard receiving games and 39 touchdowns in those nine years in Charlotte.