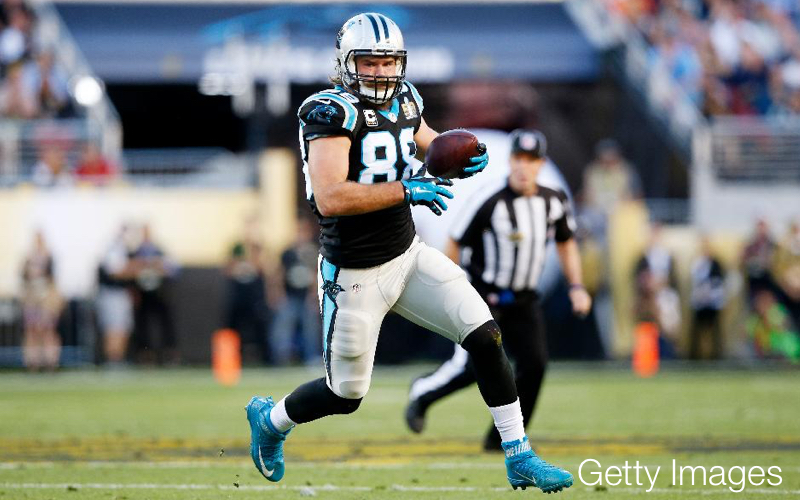 Carolina Panthers tight end Greg Olsen is a warrior on and off the field. Besides being one of the best tight ends in the NFL, battling against defenders on a weekly basis, Olsen is constantly working to attack congenital heart disease and breast cancer through his Receptions for Research Foundation.
A new collaboration between Olsen and FanChest, a gifting company for sports fans, should serve to enhance the All-Pro tight end's ability to provide resources needed so that Receptions for Research can continue with its mission. The collaboration will cause FanChest to create a special edition gift box this October, full of donated products from some of Olsen's endorsers such as New Era, to raise funds for Receptions for Research as part of Breast Cancer Awareness month. A portion of all sales for all teams on the FanChest website will go directly to Olsen's charity to aid in the fight of congenital heart disease and breast cancer.
Additionally, Olsen has become a member of FanChest's advisory board and will be tasked with marketing, product innovation and company strategy, among other responsibilities. He joins other notable board members, including NatureBox CEO Guatam Gupta, Drone Racing League CEO Nick Horbaczewski and BarkBox Head of Finance Matt Hagel.
Olsen will lead a number of social media and marketing campaigns in October, when the special edition gift box is released.
Despite the fact that Olsen will be required to attend quarterly board meetings, he says he is excited to be part of the advisory board and to learn more about the business side of start-ups.
"The opportunity to be involved in an exciting start-up and learn from the ground level while bringing more attention to my charity made for the perfect match," said Olsen.
Receptions for Research holds a special place in Olsen's heart; his son, T.J. was diagnosed with a rare congenital heart condition and his mother Sue is a breast cancer survivor.