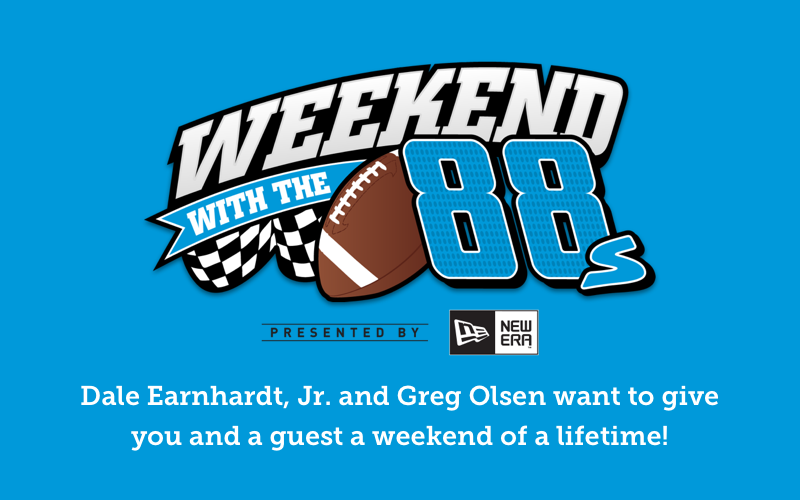 All Proceeds Benefit Levine Children's Hospital
CHARLOTTE, NC (July 27, 2016) – NASCAR's #88 driver Dale Earnhardt, Jr. and Carolina
Panthers #88 tight end Greg Olsen – together with presenting sponsor New Era – have teamed up to raise money for the Levine Children's Hospital in Charlotte, North Carolina. Now in its third year, the fundraiser is appropriately dubbed "Weekend with the 88s," and offers one lucky winner and their guest an unprecedented experience in sports spectating.
"Greg is a standup guy," Earnhardt Jr. said. "What he does on the field is incredible, and the work he does off the field to raise money and awareness for Levine Children's Hospital makes him that much more impressive. We have enjoyed being able to team up with him and his foundation for the past few years. This year, having the race in Charlotte on Saturday night and the Panthers playing on Monday Night Football will be a very unique experience for the winner."
"Weekend with the 88s" runs Friday, Oct. 7 through Monday, Oct. 10. The winning fan and their guest will experience a world-class weekend in sports:
Behind-the- scenes tour of JR Motorsports
$200 gift certificate for the JR Nation retail store
Swag bag with NASCAR gear
Two garage passes and two Grandstand tickets to the Drive for the Cure 300 at Charlotte Motor Speedway
Behind-the- scenes guided tour of Bank of America Stadium
Meet and Greet and photo opportunity with Greg Olsen
Assorted Carolina Panthers gear for two
Two garage passes and two Grandstand tickets for the Bank of America 500 at Charlotte Motor Speedway
Meet and Greet and photo opportunity with Dale Earnhardt Jr at Charlotte Motor
Two tickets to the NASCAR Hall of Fame
VIP Booth at Dale Earnhardt Jr's Whisky River restaurant and bar
$100 gift card to Whisky River
Premium Tickets to Carolina Panthers Monday Night Football game against the Tampa Bay Buccaneers
Parking pass at Bank of America Stadium
Pre-game sideline passes to watch the Panthers warmup in close-up action
Double-occupancy room at The Ritz Carlton in Charlotte, N.C., for four nights
$100 gift card to BLT Steak Charlotte Restaurant
"I'm excited to team up with Dale Jr. again to give another fan a full-throttle, over-the- top weekend of their life," Olsen said. "The best part about this event is that all proceeds benefit Levine Children's Hospital – a place very near and dear to my heart and that of our greater Charlotte community."
Only 8,888 raffle tickets valued at $18.88 will be sold. The raffle kicks off at 10 a.m. ET, July 27 and runs through Sept. 18 at 11:59 p.m. ET. The winner will be drawn on or about Sept. 20. All proceeds will benefit the Levine Children's Hospital.
Fans can learn more about the raffle or purchase a ticket at www.weekendwiththe88s.com.
###
Members of the news media are invited to email Kaylan Stamey at kaylan@dalejr.com for additional comments from Dale Earnhardt, Jr.; and contact Kristen McCullough at kristen@kamcommedia.com to schedule an interview with Greg Olsen.
About The Dale Jr Foundation
The Dale Jr. Foundation is a charity dedicated to giving underprivileged individuals with a focus on youth, the resources to improve their confidence and education, and the opportunity to achieve extraordinary goals. For more information, visit www.thedalejrfoundation.org.
About The HEARTest Yard
The HEARTest Yard is a program under the Receptions for Research: The Greg Olsen Foundation established in collaboration with Levine Children's Hospital that provides no-cost medical support services to the families of babies born with congenital heart disease. Services include in-home, private nursing care, physical and speech therapy, and other benefits that serve as a complimentary extension of traditional hospital care. The program provides these services in an effort to reduce the mortality rate, increase the life expectancy and improve the quality of life for children born with heart disease. Learn more at www.receptionsforresearch.org.
About New Era
New Era is an international lifestyle brand with an authentic sports heritage that dates back over 90 years. Best known for being the official on-field cap for Major League Baseball and the National Football League, New Era is the brand of choice not only for its headwear collection, but also for its accessories and apparel lines for men, women and youth. The brand is worn as a symbol of self-expression by athletes, artists and some of the most influential people around the globe. New Era encourages people to truly express their personal style and individuality through its products. The Company is headquartered in Buffalo, N.Y. and operates facilities in Canada, Europe, Brazil, Japan and Hong Kong. For more information, visit www.neweracap.com.