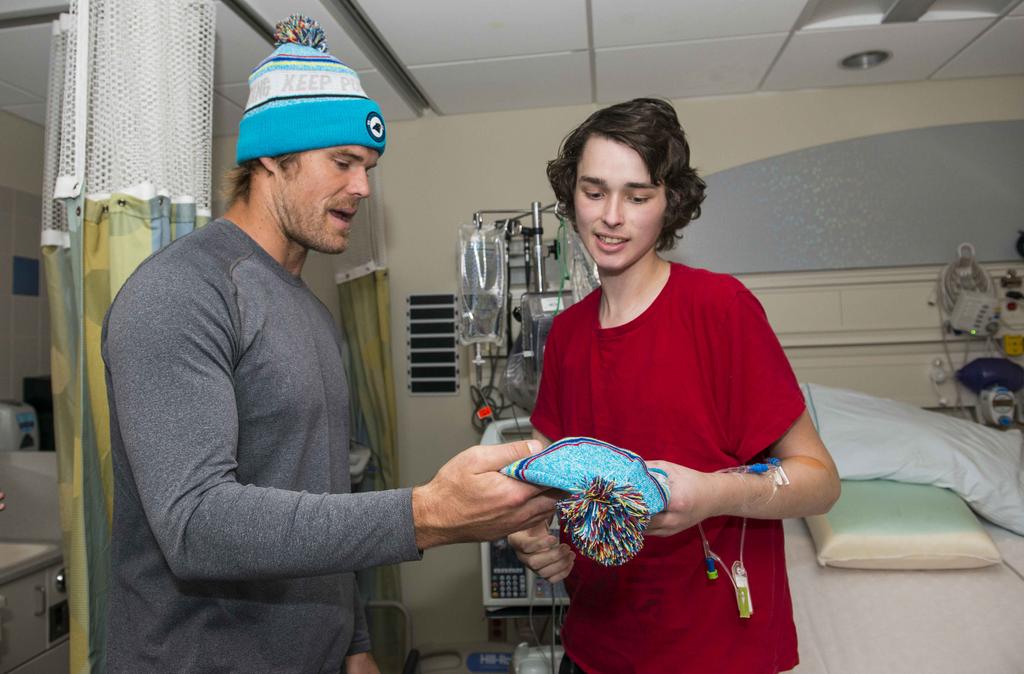 Greg and Kara Olsen's HEARTest Yard Fund has made a $750,000 donation to support pediatric heart patients.
Those funds will be used to create a cardiac neurodevelopmental program — set to be the most comprehensive of its kind — at Levine Children's Hospital on the campus of Carolinas Medical Center.
"It was staying true with what we've always tried to do, which is improve the health of children," Greg Olsen says.
That's been a main focus for the Carolina Panthers' tight end and his wife since their son, T.J., was born with hypoplastic-left heart syndrome in 2012.
That condition causes the left side of the heart to be severely underdeveloped.
The couple's HEARTest Yard fund, part of The Greg Olsen Foundation, was initially founded to provide support for families of infants treated for severe or complex congenital heart disease.
Now, it looks to support those patients into adulthood by bringing together a team of medical professionals to provide access to services and care.
"We fund this because it really means a lot to us," Olsen says. "I don't know if we ever could have imagined how special or what a big part of our lives it would be."
As T.J. has grown, it has opened the Olsens' eyes to additional needs.
Today, he is an active 5-year-old attending school and playing on a baseball team. But he still requires daily medication, some speech therapy and regular doctor's appointments as part of his journey, Olsen says.
"He's doing as well as I could have ever hoped," he adds.
Up to 50% of pediatric heart surgery patients experience issues that could impact language, fine motor skills or vision. Behavioral issues such as attention deficit hyperactivity disorder or learning disabilities are possible and could affect educational or job opportunities.
TRENDING
BANKING & FINANCIAL SERVICES
Bank of America takes $2.9B hit after tax overhaul
Vehicles are reflected in the window of a Bank of America Corp. branch in Chicago, Illinois, U.S., on Sunday, July 9, 2017.
TECHNOLOGY
Charlotte region misses cut for Amazon's HQ2
Charlotte's chance of landing the coveted prize of Amazon's second North American headquarters has ended.
HIRING IN EXECUTIVE
President
Clay County Chamber of Commerce
"Research being done in this field is pretty startling," Olsen says. "The spectrum of what these delays are varies significantly."
It takes a comprehensive approach identify and address those issues earlier.
The program aims for early diagnosis, helping intervene at the appropriate time, with better coordinated care, while setting expectations for parents. Research will help develop evidence-based treatments as well.
The goal is to treat 300 patients annually, with plans to expand as needed.
"A program like this brings everybody together in the same place, same time. With one visit, patients will get everything done, find out what their issues are, and work on them," says Dr. Paul Kirshbom, chief of pediatric cardiac surgery at Levine Children's Hospital and Sanger Heart & Vascular Institute.