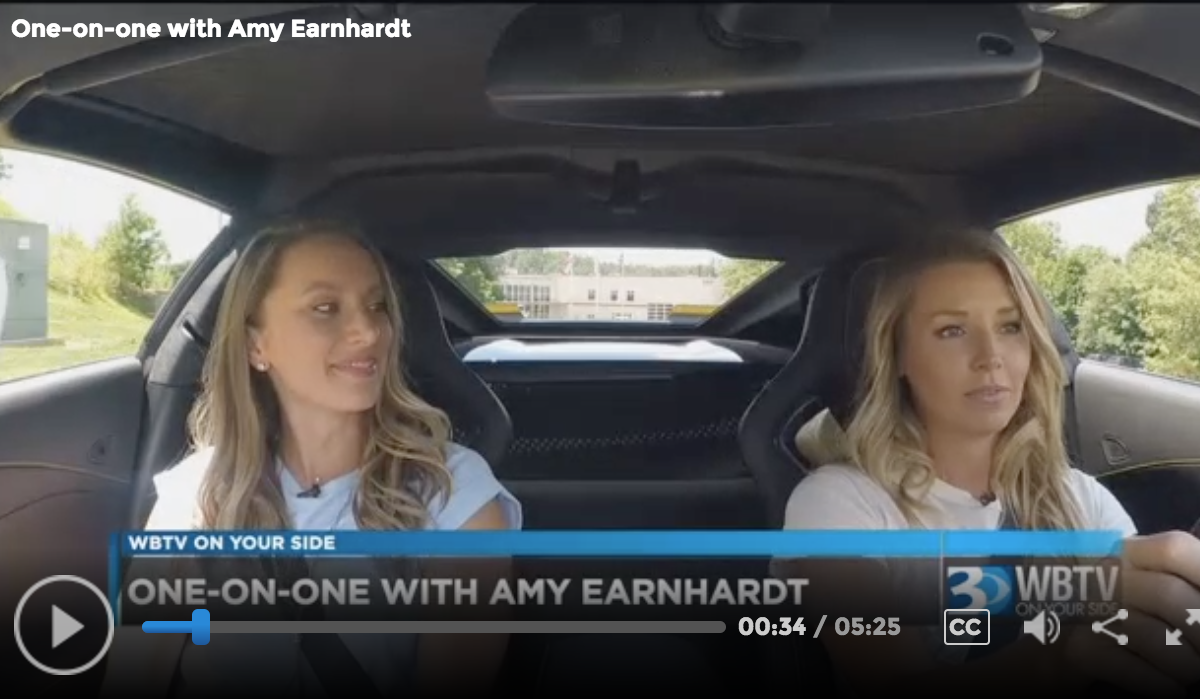 CHARLOTTE, NC (WBTV) –
Since the opening of the Dale Jr. Foundation in 2007, over $4 million has been raised to benefit charity.
One of the biggest events the foundation holds each year is the Win Dale Jr.'s Ride, where people have the chance to win a Corvette. WBTV had the opportunity to ride along with Dale Jr.'s wife, Amy Earnhardt, in the 2017 Corvette that the foundation is raffling off for this year's fundraiser.
Earnhardt talked about the foundation and all the ways they give back to the community.
"It's the seventh year we've teamed up with Chevrolet to raffle off a car, as part of just another project that we use to raise money for the Dale Jr. Foundation. It does really well," Earnhardt said. "Everyone likes to win something, and who doesn't want to win a car? Especially a Corvette. It's been a really fun project, and one that we'll continue to do, as long as Chevy wants to continue to partner with it and keep it going."
When asked about her most memorable moments from the foundation, Earnhardt said two things stood out. "Dale does a lot of Make-A-Wish, honestly, I think he's done the most Make-A-Wish out of any of the drivers," Earnhardt said. "Sometimes they come to the race track. Getting to see them and meet them with their families is really heartwarming and touching. They all have completely different stories."
Earnhardt's second memorable moment is a newer memory. "The other one is the nationwide children's hospital. We just recently paired up with them when Dale started doing more with the hospital with HMS, so we take trips up there too and get to see what they're really doing," Earnhardt said. "The kids are always so excited to see Dale and that is what makes me feel so good about it. I just like anytime you actually get to interact with the children more than anything."
The foundation focuses on giving back to the underprivileged, but specifically children.
"We do things for different schools, Blessings in a Backpack, specifically with children around here. It's kind of alarming with how many kids don't have food at home, especially over the weekend. So that one's a special one to all of us that we can see really locally in our community," Earnhardt said. "Other than that, it's really just fun to raise money, and help people in general. There's like 80 different charities we give to every year, and some of them may need certain amounts one year, less the next year, and more the next year. So we just kind of fluctuate and work with the charities that we typically work with every year."
Another notable event for the foundation is the Weekend with the 88s, which brings the two sports of NASCAR and football together. "We partner up with Greg Olsen from the Carolina Panthers. He is a super fun guy, but that's another raffle that we do, and that's in October," Earnhardt said. "You get a weekend at the racetrack and a weekend at the football field. And you get to meet Greg and Dale both."
A project that's particularly special to Earnhardt is the Amy Klutch, which she teamed up with Jordan Fish who is the owner of Kustom Klutch. The klutch costs around 88 dollars and proceeds go to benefit the Dale Jr. Foundation.
"I just wanted to do something kind of unique and girly," Earnhardt said. "But it's fun to make a donation and actually have something tangible that you get to keep."
If you want to purchase the Amy Klutch, you can visit http://www.kustomklutch.com/shop-online/the-amy-klutch. Raffle tickets for the Corvette can be purchased for just $25 at WinDaleJrsRide.com. The winning ticket gets to take home the brand new 2017 Corvette Grand Sport Coupe which was featured in the interview.
For more information on Win Dale Jr.'s ride, the Amy Klutch and more, you can go to thedalejrfoundation.org.