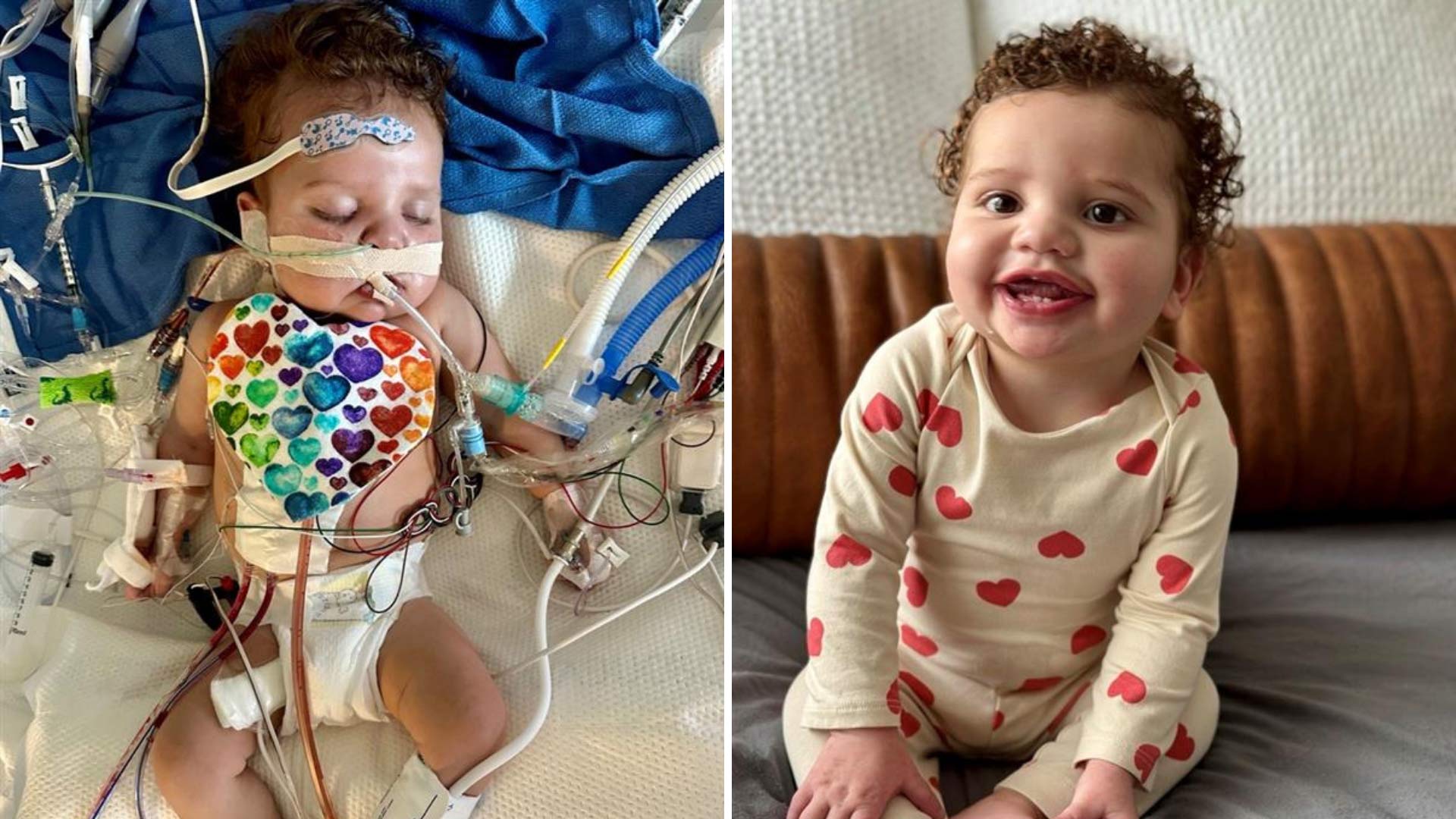 Preparing for a baby's arrival is a busy time for all parents, but Haley and K.T. Carter of Knoxville, Tenn., had much more to consider than most new parents. During the 20th week of her pregnancy, Haley learned that their baby had a congenital heart defect called a double outlet right ventricle (DORV). With DORV, the main artery and the lung artery do not connect to the usual areas in the heart and treating the condition usually requires a series of surgeries within the baby's first few years of life. Suddenly Haley and K.T. had another big thing to prepare for: They needed a hospital with an excellent reputation in pediatric cardiac care.
Their goal was to find the right hospital, even if it wasn't the closest. They visited hospitals around the southeast, but one stood out amongst the rest.
"Finding a hospital was stressful. There are all these statistics and all kinds of information," Haley says. "But when we went to Levine Children's Hospital, we just got a really good feeling. Everybody there was just wonderful and supportive and knowledgeable. They really cared."
Impressed by the staff who arranged tours and meetings with surgeons for Haley and K.T., they knew they had found the right hospital to care for their baby who would affectionally be named Ace.
Ace's First Surgery
When Ace was four months old, Haley and K.T. recognized signs of heart failure: Ace was getting out of breath frequently and sweating more than usual. They knew this meant it was nearing the time for Ace to get his first heart surgery. They brought him to Levine Children's Hospital where testing showed his lungs were getting three times the flow of blood than they should, furthering his heart failure symptoms. They stayed at the hospital with Ace for two weeks until he was ready for a Damus-Kaye-Stansel (DKS) procedure to control blood flow.
Although the DKS went well, Ace's recovery was difficult. His blood pressure bottomed out after surgery and he needed to go on a heart/lung bypass machine – called ECMO, or extracorporeal membrane oxygenation – to keep his organs functioning.
"His heart wasn't pulsing on its own. His lungs weren't breathing on their own," Haley says. "They saved his life."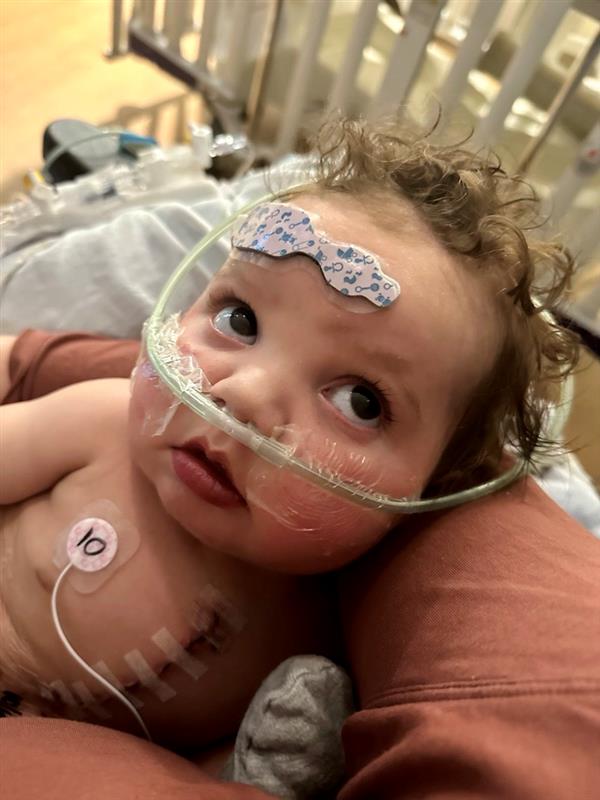 Ace spent two months in the hospital, including time in intensive care. Slowly, Ace grew stronger. Doctors were able to take him off the ventilator, then soon after, they started weaning him from medications. During that time, Haley and K.T. developed close bonds with the medical team.
"Parents of babies with congenital heart defects can have so much going on, so many medical staff around, so much of the usual baby-ness taken away," says Stirling McDavid, a pediatric cardiology nurse practitioner at Levine Children's Hospital who cared for Ace. "So it's important to me to congratulate parents on their newborn, to talk about how beautiful their baby is, to learn the family's names. I've had the true pleasure of getting to know Haley and K.T. well."
A Best Children's Hospital that is 'there for you as your child grows'
In 2022, U.S. News & World Report named Levine Children's Hospital as a Best Children's Hospital for Cardiology & Heart Surgery for the 11th year in a row. Here, top specialists care for children with congenital heart defects using the latest treatment and techniques. But the care extends beyond the hospital walls, too. The HEARTest Yard supports families who have babies with complex congenital heart disease with in-home nursing care and healthcare support. This comprehensive approach supports babies and their families with both high-tech and big-hearted care, inside of the hospital and at home.
That care extends past the baby's initial surgeries. The HEARTest Yard recently began a cardiac neurodevelopmental program that supports these children long term. If a child with a congenital heart defect needs care for a learning disability or for difficulty walking, for example, this program will continue to support the child with the care they need, as they need it.
"We do more than provide care while the baby is in the hospital. We make sure that families feel that we are with them even after they're home and when their child goes to school," McDavid says. "I'm so proud of that. I feel so good telling families that we're not just with you now, but we're going to be there with you as your child grows."
A Regional Center for Congenital Heart Defect Care
Because of this level of care, many out-of-town families who have babies with congenital heart defects travel to Levine Children's Hospital. Sometimes, the families are from towns and cities around North Carolina. And some, like Haley and K.T., travel from out of state. Levine Children's Hospital works to streamline care for out-of-town patients as much as possible. The hospital coordinates with subspecialists and primary care doctors in the patient's hometown to minimize a family's travel. When a child needs specialty care at Levine Children's Hospital, the staff supports the family during their stay.
"As healthcare professionals, we want patients to know that here they are going to be so loved – not just the baby, but the whole family. We're thinking about the siblings at home, the bills to pay, the school that's missed, the housing that's needed. How can we help lift this burden?" says McDavid. "We know that there are a lot of things that will be taken away because of hospital stays or because of the disease itself. But our goal is that families feel like they are also being poured into."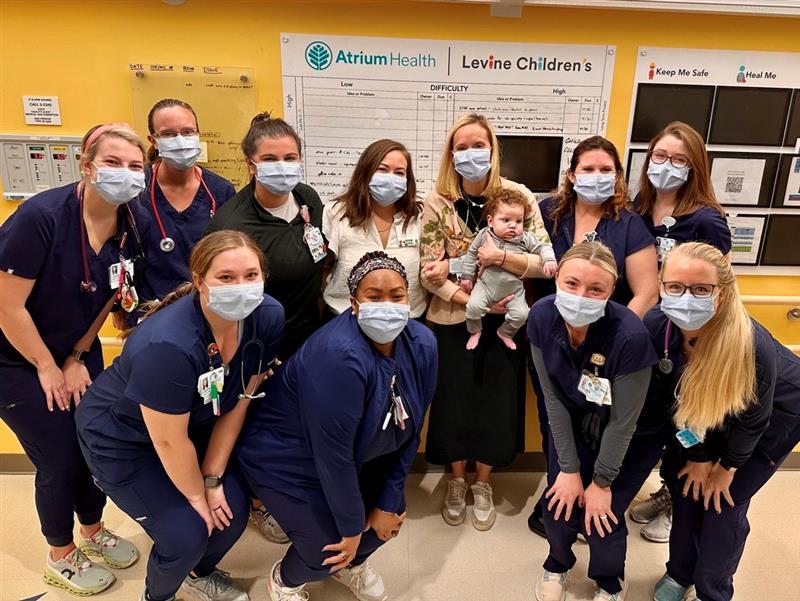 A Hopeful Future Ahead
Now, Ace is back home, and he's continuing his appointments that will determine the timing of his second surgery. It's been a challenging time, but Haley and K.T. remain centered in each moment of enjoying time together as a family, wherever they are.
"We're grateful to spend time with Ace, whether we're in the hospital or outside of the hospital. Throughout this process, it's been hard to stay patient. But it's necessary to stay patient, to stay positive, and to do the best you can," Haley says. "We're so lucky to have Ace. He's our miracle baby. He's made it through a lot."
Learn how The HEARTest Yard, a partnership between the Greg Olsen Foundation and Atrium Health Foundation, supports children with congenital heart disease and their families as they make the transition from hospital to home.