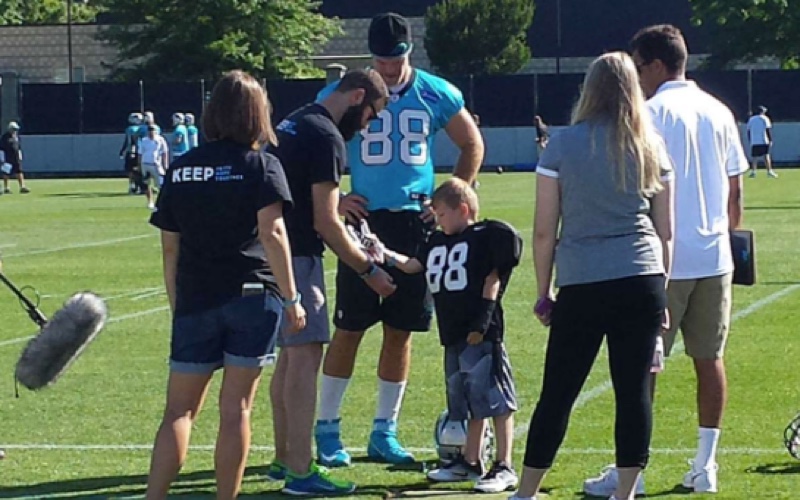 CHARLOTTE, N.C. — The NFL does not allow padded practices during organized team activities. But there was one Carolina Panthers player padded up for Tuesday morning's practice.
Parker Cowherd, a 7-year-old diagnosed with a brain tumor last November, was in full pads as he participated in Tuesday's practice as part of the Make-A-Wish Foundation. Cowherd shadowed Pro Bowl tight end Greg Olsen, who was impressed by the youngster's enthusiasm.
"Just to see the joy on his face to get a locker and put on a jersey and come out in shoulder pads, and it felt pretty hot, but he hung in there," Olsen said of Parker. "We kept asking him if he wanted to take them off, but he said no. He's a special kid. He's a trooper and I was fortunate enough to spend the day with him.
"He was ready. He was not shy. He had the helmet and he wanted to carry it. I said, 'You want me to carry it?' 'No, I got it.' I wish somebody would carry my helmet."
Olsen said Parker even provided some coaching tips, telling him at one point to get his pads down.
Olsen said the players probably get more out of visits from kids like Parker because of "their energy, their spirit, their optimism — it's hard to miss."
"These are special kids," Olsen continued. "They have such an unbelievable outlook on life. It puts a lot of things in perspective."
Parker, who is being treated at Levine Children's Hospital in Charlotte, will also attend a Panthers game this season.