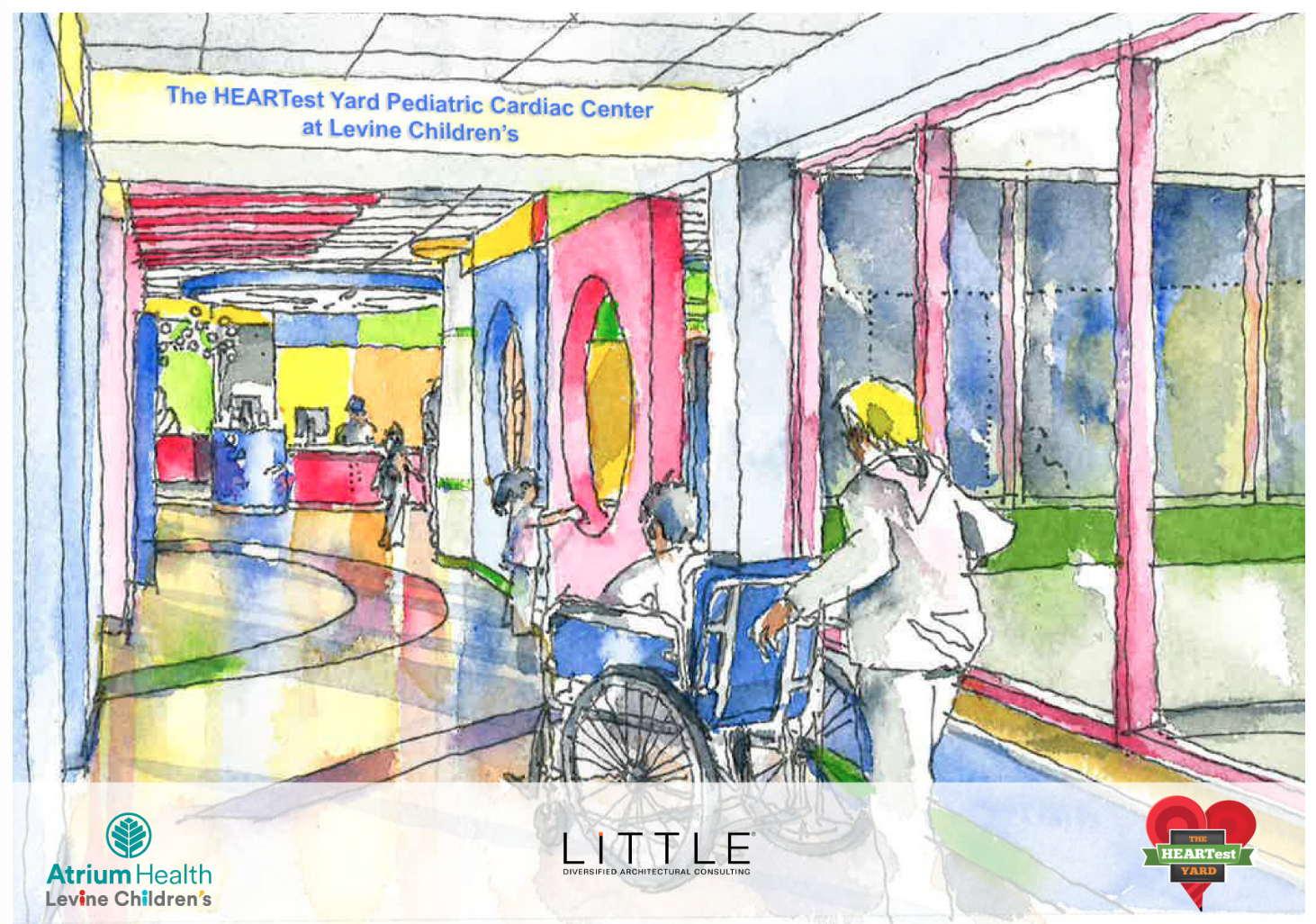 CHARLOTTE, N.C., May 8, 2019 – Atrium Health's Levine Children's Hospital has received a $2.5 million gift from Receptions for Research: The Greg Olsen Foundation to help build a next generation pediatric cardiovascular and congenital heart outpatient clinic – The HEARTest Yard Pediatric Cardiac Center at Levine Children's. The gift was announced following The HEARTest Yard Golf Classic, a fundraiser held on May 6 at the Club at Longview, and marks the largest commitment to date from Receptions for Research: The Greg Olsen Foundation to Levine Children's.
"While most know Greg Olsen as a Pro Bowl Tight End for the Carolina Panthers, we at Levine Children's know him and his wife, Kara, as visionary leaders and champions in the fight against pediatric congenital heart disease," said Stacy Nicholson, MD, president of Levine Children's, as he announced the transformational gift.
Greg and Kara Olsen started the HEARTest Yard initiative in 2012. The name originated from the three surgeries that young patients with single functioning heart ventricles typically endure in their first few years of life. The fund initially focused on private home health care for children born with congenital heart defects. Having a son with a congenital heart defect, they understood firsthand the special needs of these patients. In 2017, their vision, coupled with a $750,000 commitment, helped launch a cardiac neurodevelopmental clinic at Levine Children's. The clinic now provides cardiac patients and families at Levine Children's – from birth through adulthood – access to neuropsychologists, education specialists, mental health professionals, dietitians, and other innovative patient therapies. In turn, this will help the hospital and families get out in front of some of the challenges these young patients may face.
"This latest gift and the creation of the HEARTest Yard Pediatric Cardiac Center at Levine Children's will be a game changer for the children of the Carolinas," said Nancy Dobrolet, MD, director of the cardiac neurodevelopmental clinic. "Thanks to the Olsens, and their many supporters, we can now provide the most comprehensive cardiac care in the country for young heart patients."
The HEARTest Yard Pediatric Cardiac Center, scheduled to open in late 2020, will be housed in the Medical Center Plaza building adjacent to Levine Children's Hospital. The building will be renovated over the next several years to accommodate an array specialty outpatient services offered by Levine Children's.